Samo po džepovima,dva telefona u desni u lijevi ključevi i novčanik
To je opcija ako idem napolje onako causal

Ljudi ovaj Instander je cudo.
Bas me zanima, ako neko preko instandera skine neki stori ili sliku. Hoce li toj osobi stici obavestenje?
(Hipoteticki pitam naravno)
Hipoteticki naravno
View stories, read and write messages without anyone's knowledge
Brate zar ne bese ti 99 godiste? Kako to sad KAO MLADJI ?

U osnovnoj školi…

Moja prva generacija debilcica u Drapšinu bila 90-o godište

Spada li Pocophone F1 u gamerski telefon?
Ali pitam za skidanje da kad cuva na telefonu.
Pa pre nego sto stalkujes cimni drugara da snimis pa nek ti javi

sve pitam cisto onako

Evo još jedne potencijalne gluposti, pitam se što nisu stavili neki na bazi Tensor-a
Jedan poznanik uzima Huawei Nova 9 SE.
Kako da se instalira google play?
YT i PlayStore.
A moze li se recimo skinuti APK OD YT i samo ona skinut?
to sam video nego nisam bio siguran da je GSpace jos tu. Ovo je stvarno veoma lako, hvala!!!
Debate o tome da li ce ipad dobiti "pravi" OS koji ce omoguciti sav potencijal Pro hardvera se zahuktavaju. "Running joke" je da nema ni kalkulator.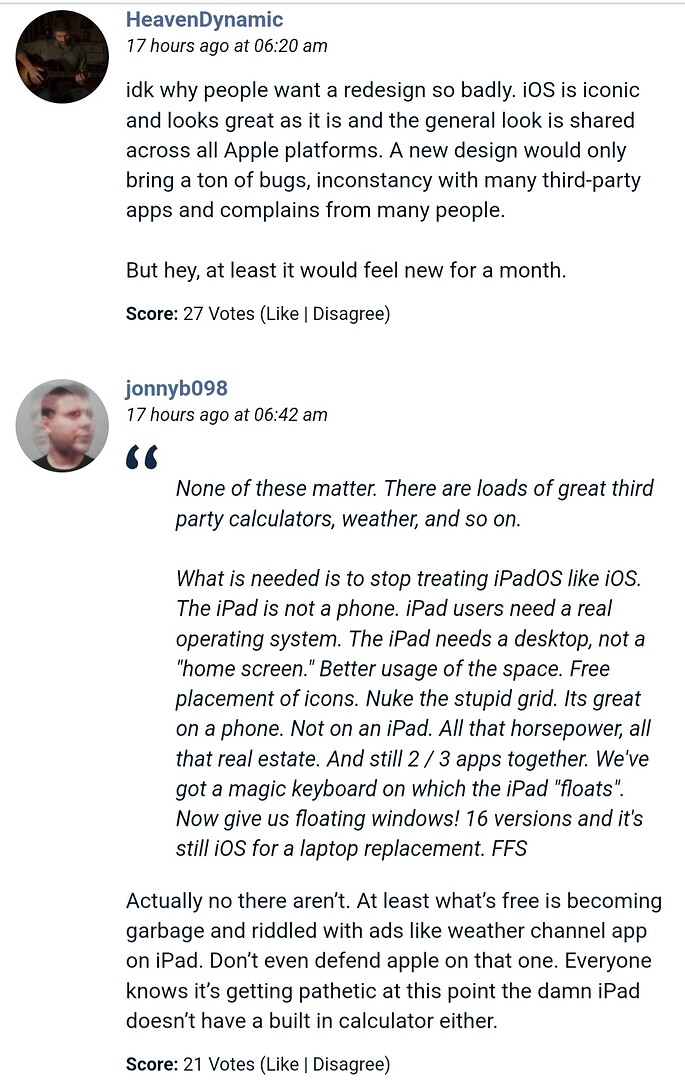 Sto se mene tice, ja sam negde izmedju. Svidja mi se iOS15, ali definitivno bi M1 mogao da posluzi kao full zamena za Air ili Macbook pro. Apple ocigledno zeli da razvdoji proizvodne segmente i softverski. "Pro" tablet je vise za graficke umetnike i ilustratore a ostali uredjaji za sve druge profesionalce.
Ne znam samo kako progutati magic keyboard koji kosta nadrealnih 400e, ali dobro, makar postoji tako nesto.
Bice to zanimljiv keynote u junu. Predvidjam ispalu za ipad, a full OS ce dobiti tek za koju godinu. Nadam se da gresim, ali znajuci Apple, tako veliki zaokreti u koncepciji nisu bas cesta pojava. A narocito jer smo skoro vec dobili jedan ogroman napredak sa M1 cipovima. Moguce je i da ce ostaviti to za sledecu geberaciju sa M2 cipovima za sta vec postoje rumori da ce se pojaviti na jesen.
Pre par dana čačkao malo novi Galaxy Tab S8 Ultra, 14.6 inča ekran, kakva lepota za gledati.