In-game, FOX Game Engine… Samo u 1080p

E ovo je WAUUUU effect!!! Damn! Ovo je perverzno!
Jel ovo neka sala na kraju? Ovo Xbox 360 Live, PS3 PSN? Izlazi za OVU generaciju konzola?
o moj j… boze pa ko ce ovo docekat majku mu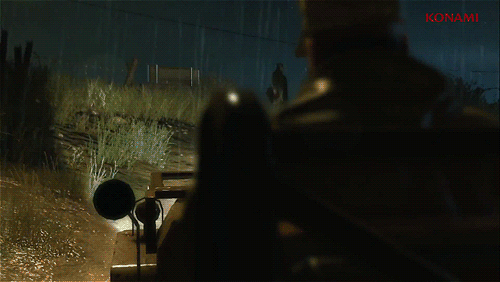 Hahah, ovo ce da izmuze zadnju kap koju ova generacija moze da ponudi.

A i iskreno se nadam da je tako jer ovo izgleda odlicno.


Jedino sto mi je zao iz celog ovog serijala je sto sam poceo na PS3 u igraonici da prelazim MGS4 i nisam zavrsio, mada sam video 50% price i kraj posto je moj drug prelazio, ali opet nije to to.


Dobro, ima vremena, mozda iz sledece generacije uzmem Sony, i mooozda ce on podzavati ps3 igre, pa cu se taman kompletirati.

Nema šanse da podržava, zbog arhitekture koja je totalno drugačija, ali totalno.
Evo extended HD videa sa gameplay-om… Od 10tog minuta pa na dalje, vidite kako bolesno izgleda.
Ovima iz razvojnog studija bolje bi bilo da se posvete više igri nego pravljenju filmskih sekvenci prošlu igru MGS 4 više sam gledo nego igro ( a kupio sam orginal ) Ipak film je film a igra je igra tako da ono…
Pa kazu oko 8h, 9h su cut scene na MGS4, ali celi film na yt je u 3h, verovatno nema medjuscena nekih, primecujem… Ljudi jel moguce da ce MGS:Ground Zeroes izaci i za PC, posto na kraju ovih klipova ne pise PC, ali na IGN i gamespot pise da ce izaci i za PC?
Hteo sam da kažem kad kupim igru hoću da igram igru a ne da gledam glup film koji traje 9 sati .
Trilogija lord of the rings traje 9 sati ,stavljati toliko cut scena u igru to je van pameti.
Više gledaš nego što igraš .
pa citav serijal je takav i covek je tako zamislio igru
mislim prihvatis je kao takvu
meni to uopste nije smetalo sto vise prijalo mi je
Metal Gear mi je jedan od najdrazih serijala ikad
tako da se nadam da ce i ovaj deo zadrzati taj pecat Kojime u MGS serijalu
Nedavno sam procitao da ce se ipak snimiti MGS film. Columbia Pictures a rezeser je neki lik koji je snimio hulk-a. Potrazicu vise detalja pa cu objaviti a Hideo Kojima je navodno popustio i dao saglasnost da se radi film u cijem snimanju ce i on ucestvovati
Sent from my Galaxy Nexus using Tapatalk 2
ovo je fenomenalno,koliko ce moci ps3 i xbox ovo da isprate ne znam[buduci da je ovo sve terano na pc-u] ali ce gameplay ubijati.Doduse jos ce biti onih ''dosadnih'' cutscenova kojih ce biti nesto vise od 10000 ali na to smo vec navikli + open world,sta ces vise…
Meni ovo super izgleda…jedva cekam…ne mogu da verujem da ce biti za ovu generaciju konzola…tacno je cede do poslednje kapi…sto je za svaku pohvalu…Sto se tice cut scena…meni je to uzivancija…nekako imam osecaj kao da gledam film…a ujedno i ucestvujem u njemu…ima to svoju draz…bar meni.Jedino mi je malo cudna ona scena kada se pojavljuje Snake…Nekako mi ne lici na njega…
Kojima je car, i ako zna engleski jezik, nece da ga prica, barem ne u medijima (ili mu se desilo al` retko), nego opuca ove magarce, xaxa… rodoljub, takve ljude volim… :da:
evo jos malo dodatnih informacija za ovu fenomenalnu(po videu)igru,samo mi je zao sto nisam nigdje video borbu niti neki AI samo grafiku.
Hideo Kojima has confirmed Metal Gear Solid: Ground Zeroes and Project Ogre are two seperate projects.
Venting his frustration on Twitter, Kojima said he's "sick and tired" of being probed about the link between the two games at PAX.
"While I am happy to know people liked "MGS Ground Zeroes", I'm sick & tired of people keep asking me like "is that project Ogre?" here in Seattle everyday," he said. "Project Ogre is what the project that Ogre appears. Ogre does not appear in "MGS Ground Zeroes" trailer."
Sto vi mislite o tome ha ja mislim da je projekt ogre igra za next gen dok je MGS:GZ za ovu generaciju
Ja sam odusevljen sa ovim sto sam video i nadam se da ce biti za ovu generaciju konzola.Red bi bio da polako zatvaraju ovu generaciju sa par super hitova MGS Ground Zeroes, Watch Dogs i Star Wars 1313

Evo ti dokaz da je za ovu generaciju
Confirmed: Metal Gear Solid Ground Zeroes is current gen - set for PS3, Xbox 360 and PC
Sony employee confirms Konami's multiplatform push; Denies next-gen shift
By Tamoor Hussain for CVG UK
Metal Gear Solid: Ground Zeroes is a multiplatform title, according to a PlayStation community manager.
Posting in the comments section of the PlayStation Blog, social media manager Sid Shuman said the game is not exclusive to the PlayStation 3 and will be available on other platforms.
"It is multiplatform, just to set the record straight," he said. "Would be great to see some exclusive content, but I don't reckon we'll know anything for a loooong time on that."
Konami has not officially confirmed which platforms Metal Gear Solid: Ground Zeroes will be released for. Speaking at Penny Arcade Expo, Kojima said the game is currently running on a PC but that the footage was indicative of what the PS3 version will look like, while indicating it's likely to be released for Xbox 360 and PC.
This would be the first time a mainline Metal Gear Solid title is available on Microsoft's console and the PC alongisde the PlayStation counterpart.
On Saturday, Konami rocked the industry by releasing a new Metal Gear Solid: Ground Zeroes gameplay demo.