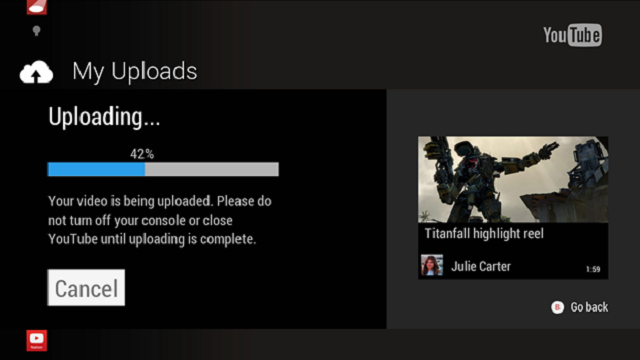 An update to Xbox One's YouTube app is scheduled for tomorrow that will allow users to directly upload gameplay recordings.
The update will allow players to record their gameplay, edit it with Upload Studio, and then upload it directly to YouTube with the push of a button. Previously users had only been able to upload footage directly to their OneDrive account.
"Game DVR and Upload are among the most used apps on Xbox One," Microsoft explained. "We know how important it is to be able to easily watch and share video clips, and starting tomorrow we're rolling out an update to the YouTube app on Xbox One that integrates Game DVR and Upload with YouTube**, making it easier than ever to capture and share game clips with the world."
The updated YouTube app also allows users to watch videos in Snap Mode, add individual videos as Pins, earn Media Achievements, and add YouTube channels to OneGuide.