Moze li neko da mi pojasni oko ovog game passa?kako sta I koliko je to igara,jel dostupno kod nas???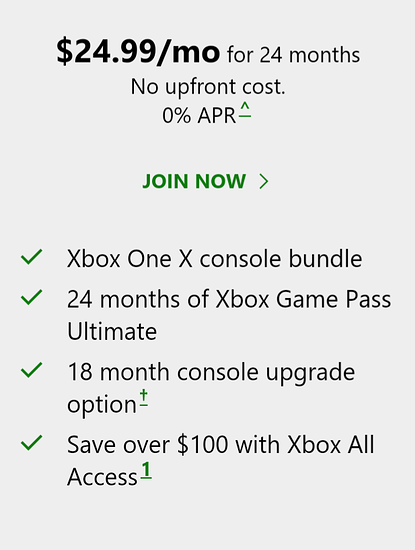 Ovo nije dostpuno kod nas.
Ako pitaš konkretno za ovu sliku koju si postavio, to nije game pass nego opcija za kupovinu konzole na rate koja uključuje i game pass pretplatu, te kao što reče kolega gore - nije dostupna kod nas.
Ako pitaš za game pass kao servis, on je dostupan na razne načine, direktnom pretplatom, kupovinom kartica sa kodovima ili konverzijom iz Live Golda.
Ima ogroman broj igara svih žanrova i stalno ubacuju nove, svaki mjesec po 5-6.
Mozete li da mi preporucite neki pouzdan link za kupovinu gde I kako,previse je informacija online I ponuda prosto ne znam sta je pouzdano I dobro za kupiti.
Piši na mail: [email protected]
Dobićeš sve informacije i cene za Live, GamePass i Ultimate pretplate.
Ta opcija iz prvog posta je skoro duplo skuplja nego da se uzme odvojeno preko XBR shopa.