According to a recent study by SuperData Research, Twitch is now more popular than premium video services like HBO and Netflix.
Throughout 2016, Twitch clocked in at 185 million viewers, compared to HBO's 130 million subscribers and Netflix's 93 million subscribers. It doesn't look like this trend is going to change in 2017 either, as SuperData estimates that Twitch will have 212 million viewers by the year's end.
To be fair, SuperData is comparing the amount of viewers on Twitch, which is a free, ad-based streaming service, to the amount of subscribers for HBO and Netflix, which are paid, premium services. That being said, Twitch is expected to earn 56 percent of the $3.2 billion in total revenue that gaming videos are estimated to make by the end of 2017.
YouTube is, of course, the reigning champion of views with 517 million in 2016 in GVC regions only. Music streaming service Spotify, ESPN subscribers, and Pandora users all ranked lower than Twitch as well, and Hulu struggled the most with only 12 million subscribers.
The fact of the matter remains, however, that Twitch and other gaming video services like YouTube continue to dominate subscription services that not only charge viewers monthly fees but also pump a boatload of money into original productions. Meanwhile, the average Twitch production costs consists of a gaming rig, a camera, a mic, and a good internet connection, with Twitch's main investment in server space for its content creators.
These statistics could also explain why Xbox has been so desperately trying to break into the streaming game with Mixer. But it looks like, at least for now, it's going to be a long, uphill battle for anyone besides YouTube to compete with Twitch, especially if it keeps giving out loot boxes for games like PlayerUnknown's Battlegrounds and Overwatch.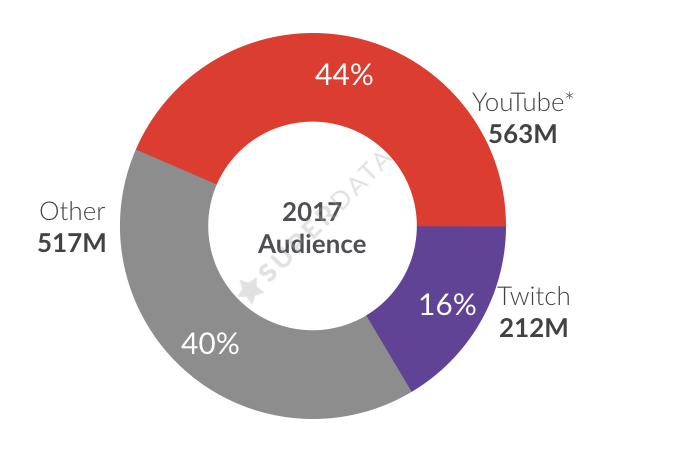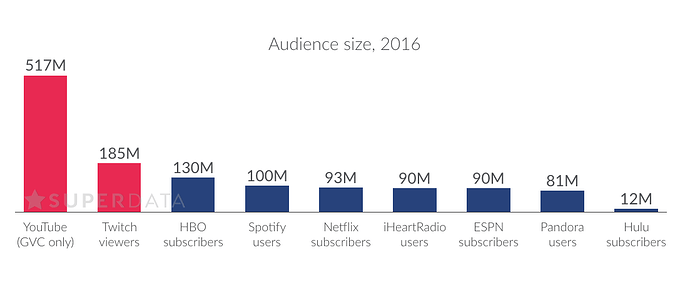 https://dotesports.com/general/twitch-audience-hbo-netflix-18122