Pogledajte koje su top 10 najbolje exkluziva ove next generacije za PS3.
Treba reci da ova lista vazi do izlaska Killzone-a 3,naci do 22.2.2011(Killzone 3 se ne racuna).
Slike govore vise od reci.
[SIZE="4"]10. LittleBIGPlanet 2[/SIZE]
Innovative and charming art style aside, LittleBIGPlanet was quite impressive technically, with all substances sporting realistic textures, like fabric, wood and stone. LBP2 improves on the first by running smoother with more detailed textures and effects, even borrowing some enhancements from the mighty God Of War III engine. The result is a game that is artistically in a league of its own yet doesn't lack the technical prowess that many games lack when putting
innovative artistic design first.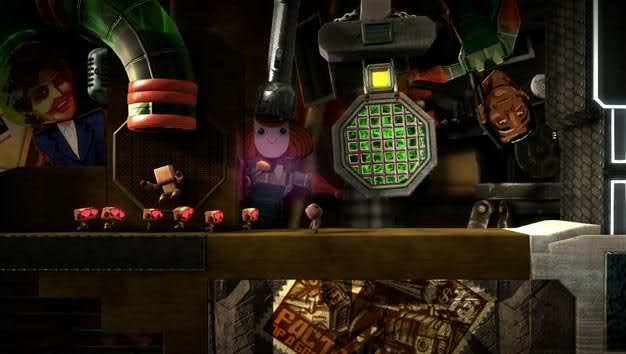 [SIZE="4"]9. Resistance 2[/SIZE]
Insomniac's sci-fi FPS franchise received a massive overhaul since its PS3 launch-title debut Resistance: Fall Of Man. Character models look terrific and animate very nciely. The vastly varied locations sport high-resolution textures and bright colors where fitting, making Resistance 2 stand out amongst the many bleak FPS's out there. The scale of the environments is tremendous, as are the colossal bosses you will face throughout them. A solid, locked framerate of 30fps rounds out the exceptional visuals to this great cinematic FPS.
[SIZE="4"]8. Metal Gear Solid 4: Guns Of The Patriots[/SIZE]
Blah blah blah sub-HD. MGS4 is a visual beast. Kojima and co. have crafted an engine worthy of the legendary Snake. Character models are top-notch and animated realistically throughout detailed and inspired locations. Colors are vivid or bleak when appropriate. Smooth framerate holds it all together.
[SIZE="4"]7. Ratchet & Clank Future: A Crack In Time[/SIZE]
The visual fidelity of the latest Ratchet & Clank game is sadly underrated. With huge, detailed environments that bleed with vibrant, saturated colors, gorgeous explosions and effects, seamless animation, and a silky smooth 60fps framerate, it's clear that Insomniac hasn't lost any of their technical prowess from previous generations. Character models have just enough meticulous detail (like the fine hairs on Ratchet's head) to compete with the biggest visual giants without sacrificing the franchises wonderful fantasy art style.
[SIZE="4"]6. Uncharted: Drake's Fortune[/SIZE]
Uncharted: Drake's Fortune was the first PS3-exclusive that would question what could and could not be done technically on competitor's consoles. Naughty Dog have been technical wizards since the days of PS1 and Crash Bandicoot, and continued that trend on the PS2 with the Jak & Daxter series, with Jak 3 being arguably the best-looking game on all consoles last gen despite the PS2′s technical shortcomings. Still, I don't think anyone could have predicted just HOW good Uncharted would look. It ran smoothly and at the time had the hands-down best animation around, and to this day it still looks better than half the new releases we see. And then there's the water effects. No other game has such dynamic water. Drake actually gets wet, and only on the parts of his body that are physically submerged in water. Not to mention that he dries off over time too. Brilliant. And I'm also a sucker for lush jungles and vibrant skies.
[SIZE="4"]5. Gran Turismo 5[/SIZE]
Polyphony has been making photo-real Gran Turismo games since the PS1, so GT5′s visual quality was guaranteed. It's hard to truly describe, you need to see it in motion to understand how good it looks. Being a racing sim, of course it's not going to provide you with nuclear explosions, blinding colors, wide-open destructible war-torn vistas and skies full of brooding battle ships, but it presents photo-realism to a degree that is just as mind-blowing. The only thing faster than your modified Ferrari is the smooth 60fps framerate.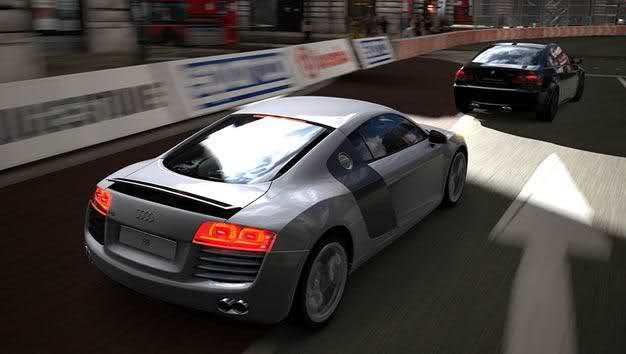 [SIZE="4"]4. Heavy Rain[/SIZE]
Heavy Rain is the most realistic game I've seen so far, from sheer technical detail to artistic design. The atmosphere is masterful; like stepping outside, the world of Heavy Rain is very ordinary. It's nothing we don't see everyday, from a clean and populated shopping mall full of busy people, to a beaten down neighborhood on a bleak, rainy day. Character models are based off of actual people, with unique skin textures, pores, individual hairs, and all manner of natural imperfections, while still maintaining fluid expressions. No blindingly bright colors or abstract designs, no disproportional character models or air-brushed faces. It's life as we know and see it. But it's Heavy Rain's daringly realistic representation of life that sets it apart from the rest, with an engine powerful enough to pull off realism without exceptions.
[SIZE="4"]3. Killzone 2[/SIZE]
The game who's in-game graphics managed to outdo the initial CG trailer in every way. Killzone 2′s environments feature some of the most meticulously detailed textures you'll see on the PS3. Explosions are gorgeous. Animations are almost more fluid than real life. The atmosphere is terrific; Helghan's cold eerie look is punctured by explosions and gunfire, and you get the sense that you're stuck in the middle of a massive war. Oh, and while you can't really see your character Sev get wet in water like in Uncharted since it's a FPS, the water itself looks remarkable.
[SIZE="4"]2. Uncharted 2: Among Thieves[/SIZE]
I repeat, Naughty Dog are technical wizards. More varied environments than the first game with stunning attention to detail. Every texture whether up-close or in the distance is treated with equal care. Animation is the best in the business. Not only is the water slightly improved from last time, but snow is introduced with the same dynamic realism. Drake actually imprints the snow with real depth, whether from a step or a roll. Watching snow gather on Drake's body then melt away is absolutely magical, as minor as it may be in the grand scheme of things. But that's why Uncharted 2 is such pure visual splendor; Naughty Dog put just as much work into the smallest details as they do the rest of the game. I only know of one game that manages to top Uncharted 2 visually, if only by a hair.
[SIZE="4"]1. God Of War III[/SIZE]
God Of War III truly looks like a painting in motion. The texture detail is astounding and gives life to the beautiful mythological locales, painstakingly created in such a scale that "epic" is an understatement. The dynamic blood effects are deliciously gruesome. Quick-time finishers are awesome and serve to highlight the fine details in both the surroundings and character models. The Titan battles are the most visually stunning moments I've experienced this gen, so awe-inducing that you may forget you're actually moving freely on them and slashing through hordes of enemies while the Titans themselves move, all without any visual or gameplay sacrifices. Oh yeah, and the whole thing runs at a perfect 60fps. God Of War III is the best-looking PS3 game this gen so far, as well as the best-looking game among all consoles. Killzone 3 has its work cut for it.