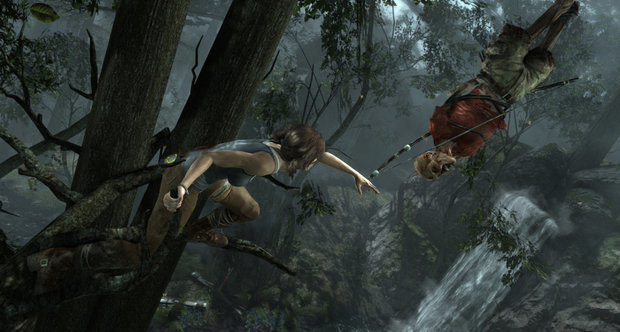 Here are shinies Nixxes has crammed into the PC edition, not found on consoles:
Very high resolution textures with up to 16x the amount of data
Detail Tessellation to enhance the detail on many surfaces in the game
Higher quality shadows
High quality bokeh depth of field with near-blur
Tessellation algorithms used to smooth out geometry
Improved cloth, SSAO, quality wetness effects, and post-filter effects.
LOD quality is adjustable for better quality on higher-end machines.
None too shabby! Tomb Raider's also a Steamworks game, with the usual support of Big Picture Mode, achievements, cloud saves, and whatnot. Square Enix revealed the minimum PC system requirements before, but here they are again if you've missed them (Windows XP support! Adorable):
Windows XP Service Pack 3, Windows Vista,7,8 (32bit/64bit)
DirectX 9 graphics card with 512Mb Video RAM:
AMD Radeon HD 2600 XT
nVidia 8600
Dual core CPU:
AMD Athlon64 X2 2.1 Ghz (4050+)
Intel Core2 Duo 1.86 Ghz (E6300)
1GB Memory (2GB on Vista)
If you want to turn on some of those fancy PC features, though, you'll probably want something more like this recommended spec, or probably a fair bit higher
Windows Vista, Windows 7 or Windows 8
DirectX 11 graphics card with 1GB Video RAM:
AMD Radeon HD 4870
nVidia GTX 480
Quad core CPU:
AMD Phenom II X2 565
Intel Core i5-750
4GB Memory
Tomb Raider comes to PC, Xbox 360 and PlayStation 3 on March 5.