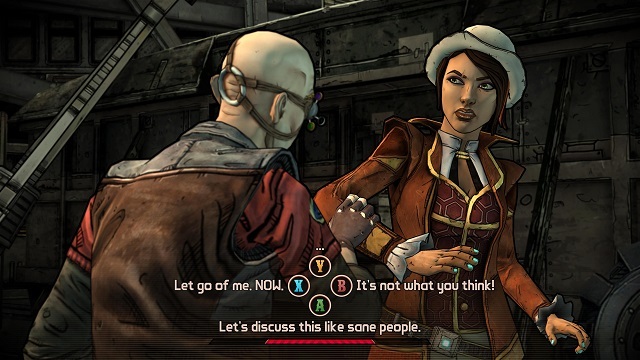 Telltale Games have released five new screenshots from the first episode of Tales from the Borderlands.
Tales from the Borderlands takes place after the events of Borderlands 2 and follows the story of Rhys and Fiona, who aren't actually vault hunters. Rhys is a Hyperion company man and Fiona is a con-artist.
The game takes place in the past, with the two main characters retelling the events that you will play through. However, both Rhys and Fiona's versions of events are different, and players will quickly notice the discrepancies in both accounts. "You never really play what actually happened, you're playing this Big Fish version of what happened," Telltale's Kevin Bruner explained at a SXSW panel.
Adam Sarasohn, producer at Telltale Games, also revealed over on the PlayStation Blog that players will be able to use the loot they collect in Tales in "other areas of the Borderlands franchise."
Other characters from the Borderlands universe will also appear during the game, such as Zero from Borderlands 2, who you can see in one of the screens below. Telltale designer Harrison Pink mentioned during the SXSW panel that there will be shooting segments, "just in a Telltale kind of way."
Each episode in the series will cost $4.99, or you can save money by purchasing the season pass.