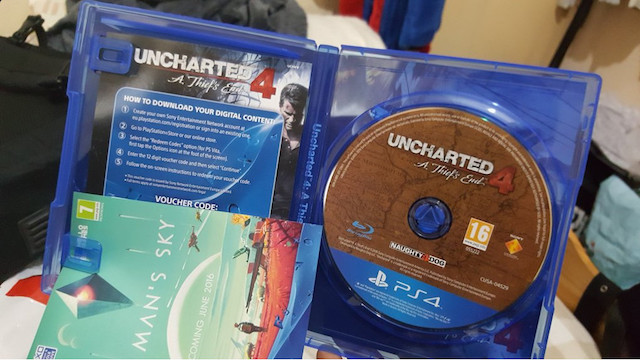 Uncharted 4: A Thief's End is finding its way into the hands of a select number of fans, despite its official release not being for another two weeks.
A retailer in the UK, CEX, was confirmed to have sold at least one copy of the upcoming action adventure title without any complications. The gamer in question, going by the name of Shabz, recounted the scenario to gaming outlet VideoGamer.com.
"I went into CEX… to actually buy myself a camera lens," Shabz commented. "and when I went to the counter to purchase the lens I saw behind the shop assistant that there was Uncharted 4 so as a try I said can I also get a copy of Uncharted 4, he just picked it up and rang it through the till."Amazon was also reported to have shipped Uncharted 4 early, but the distributor quickly addressed the issue and emailed U.S. customers verifying that the game would not be sent out before the official release date of May 10th. Some of these copies still made it to their destination, however, and some even found their way onto eBay.
The game's multiplayer is not yet live for those who got a hold of it, nor can DLC codes be redeemed or trophies synced. The single-player campaign, however, is running just fine according to Shabz.
The source of this scheduling error was almost certainly Uncharted 4's recent two-week delay. The PS4 exclusive was originally planned to launch today, April 26th, before being pushed to May 10th.