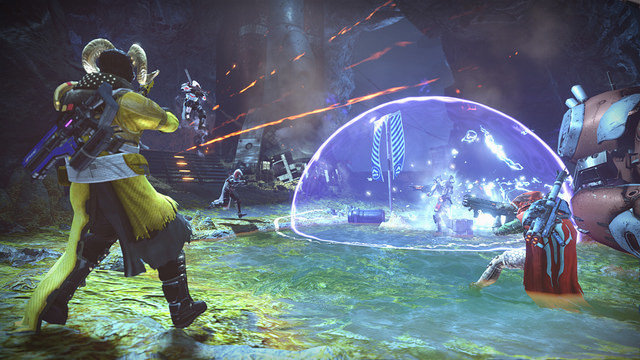 PlayStation users will receive an additional, exclusive Crucible map among the rest of the new content House of Wolves will bring to Destiny, Sony announced today.
Beyond the three Crucible maps that Xbox players will also get through the House of Wolves expansion, PS3 and PS4 Guardians will be able to throw down on Timekeeper, a "close-quarters battleground set inside a mysterious Vex device amidst the arid dunes of Mars."
The other three maps include the medium-sized, Phobos-set (one of Mars' two moons, in case you didn't know) "Black Shield"; an "intimate arena" within Venus' underground tunnels called Thieves' Den"; and the European Dead Zone on Earth, which touts "crumbling gothic spires, stained glass, and overgrown plant life."
House of Wolves will also make Crucible matches more rewarding by doubling up the number of engrams in marks earned per match.
Destiny's House of Wolves expansion launches across PlayStation and Xbox consoles on May 19.
http://www.egmnow.com/articles/news/ps4-and-ps3-destiny-players-get-an-exclusive-extra-crucible-map-with-house-of-wolves/