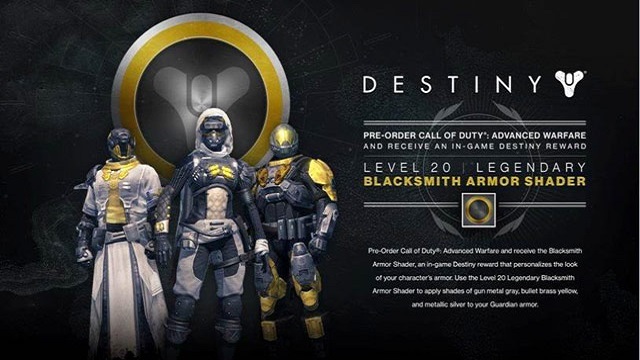 Sledgehammer Games and Bungie are teaming up to offer Call of Duty: Advanced Warfare pre-order customers a little bonus in Destiny in the form of a Legendary Armor Shader.
Pre-ordering Advanced Warfare at GameStop before September 21 will net you the Level 20 Legendary Blacksmith Armor Shader for Destiny. This item can be used to add gun metal gray, bullet brass yellow, and metallic silver to your Guardian armor.
If you pre-order the game online your code will be sent for you, and for in-store pre-orders it will be printed on a receipt.
Call of Duty: Advanced Warfare is set to launch November 4 (November 3 for Day Zero Edition) on PlayStation 3, PlayStation 4, Xbox 360, Xbox One, and PC. While Destiny will be available from September 9 on PS3, PS4, Xbox 360, and Xbox One.