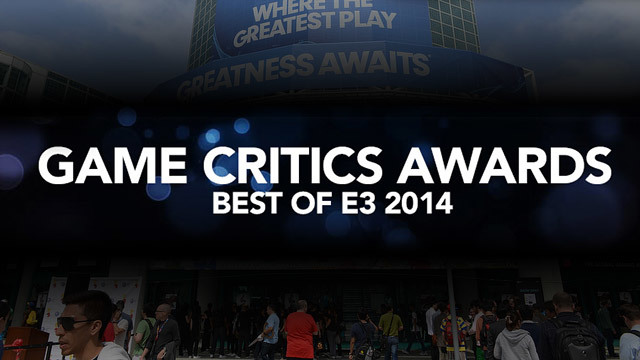 Every year, an independent selection of judges from a wide range of North American media outlets go hands-on with games at E3 to vote on their picks for the best games of the show. Here is the list of nominations for the awards coming out of E3 2014.
As a note of disclosure: EGM was among the 29 outlets that were a part of this year's voting.
Before we get to the list of nominations, I'd like to bring up a few points of clarification. First, in order to be nominated for an award, the game had to be offered as playable in some form to those doing judging. Because of this, titles such as Tom Clancy's The Division, Metal Gear Solid V: The Phantom Pain, and The Witcher 3: Wild Hunt were not eligible for nomination.
As well, these are not the only games that were nominated for awards coming out of E3. Judges were asked to offer up their own selections of nominations, and those that received the most points through voting were then presented as the finalist nominations you see below. So, if you're wondering where X or Y game is, it doesn't mean it wasn't nominated—it just means it wasn't a popular enough nomination to become one of the finalists.
The winners of the E3 2014 Game Critics Awards will be announced July 1st.
Best of Show
Alien: Isolation (Creative Assembly/Sega)
Batman: Arkham Knight (Rocksteady/WBIE)
Evolve (Turtle Rock/2K Games)
Middle-earth: Shadow of Mordor (Monolith/WBIE)
No Man's Sky (Hello Games)
Tom Clancy's Rainbow Six: Siege (Ubisoft Montreal/Ubisoft)
Best Original Game
Destiny (Bungie/Activision)
Evolve (Turtle Rock/2K Games)
No Man's Sky (Hello Games)
Splatoon (Nintendo EAD/Nintendo)
Sunset Overdrive (Insomniac/Microsoft Studios)
Best Console Game
Alien: Isolation (Creative Assembly/Sega)
Batman: Arkham Knight (Rocksteady/WBIE)
Destiny (Bungie/Activision)
Evolve (Turtle Rock/2K Games)
Middle-earth: Shadow of Mordor (Monolith/WBIE)
Best Handheld Game
Murasaki Baby (Ovosonico/Sony Computer Entertainment)
Persona Q: Shadow of the Labyrinth (Atlus/Atlus)
Super Smash Bros. for 3DS (Sora/Namco-Bandai/Nintendo)
Theatrhythm Final Fantasy: Curtain Call (Square-Enix/Square-Enix)
Best PC Game
Civilization: Beyond Earth (Firaxis/2K Games)
Dragon Age: Inquisition (Bioware/EA)
Evolve (Turtle Rock/2K Games)
Far Cry 4 (Ubisoft Montreal/Ubisoft)
Tom Clancy's Rainbow Six: Siege (Ubisoft Montreal/Ubisoft)
Best Hardware
Alienware Alpha (Alienware)
Oculus Rift (Oculus VR)
PlayStation TV (Sony Computer Entertainment)
Project Morpheus (Sony Computer Entertainment)
Best Action Game
Call of Duty: Advanced Warfare (Sledgehammer Games/Activision)
Destiny (Bungie/Activision)
Evolve (Turtle Rock/2K Games)
Far Cry 4 (Ubisoft Montreal/Ubisoft)
Tom Clancy's Rainbow Six: Siege (Ubisoft Montreal/Ubisoft)
Best Action/Adventure Game
Alien: Isolation (Creative Assembly/Sega)
Assassin's Creed Unity (Ubisoft Montreal/Ubisoft)
Batman: Arkham Knight (Rocksteady/WBIE)
Sunset Overdrive (Insomniac/Microsoft Studios)
The Order: 1886 (Ready at Dawn/Sony Computer Entertainment)
Best RPG
Bloodborne (From Software/Sony Computer Entertainment)
Dragon Age: Inquisition (Bioware/EA)
Fable Legends (Lionhead/Microsoft Studios)
Middle-earth: Shadow of Mordor (Monolith/WBIE)
Persona Q: Shadow of the Labyrinth (Atlus/Atlus)
Best Fighting Game
Guilty Gear Xrd -SIGN- (Arc System Works/Aksys Games)
Killer Instinct Season 2 (Iron Galaxy Studios/Microsoft Studios)
Mortal Kombat X (NetherRealm Studios/WBIE)
Persona 4 Arena Ultimax (Arc System Works/Atlus)
Super Smash Bros Wii-U (Sora/Namco-Bandai/Nintendo)
Best Racing Game
Driveclub (Evolution/Sony Computer Entertainment)
Forza Horizon 2 (Playground Games/Microsoft Studios)
The Crew (Ivory Tower/Reflections/Ubisoft)
Best Sports Game
FIFA 15 (EA Canada/EA Sports)
NHL 15 (EA Canada/EA Sports)
Madden NFL 15 (Tiburon/EA Sports)
Best Strategy Game
Civilization: Beyond Earth (Firaxis/2K Games)
Grey Goo (Petroglyph/Grey Box)
Best Social/Casual
Disney Infinity 2.0: Marvel Super Heroes (Avalanche/Disney Interactive)
Fantasia: Music Evolved (Harmonix/Disney Interactive)
LEGO Batman 3: Beyond Gotham (TT Games/WBIE)
Mario Maker (Nintendo EAD/Nintendo)
Yoshi's Woolly World (Good-Feel/Nintendo)
Best Online Multiplayer
Battlefield: Hardline (Visceral/EA)
Destiny (Bungie/Activision)
Evolve (Turtle Rock/2K Games)
Splatoon (Nintendo EAD/Nintendo)
Tom Clancy's Rainbow Six: Siege (Ubisoft Montreal/Ubisoft)
Best Indie
Axiom Verge (Tom Happ)
CounterSpy (Dynamighty)
Below (Capy Games)
No Man's Sky (Hello Games)
Ori and the Blind Forest (Moon Game Studio)