Evo da napravim temu ako vec ne postoji, danas je i zvanicno izasla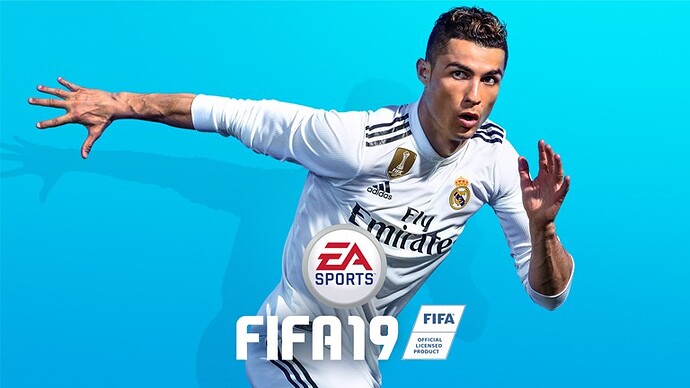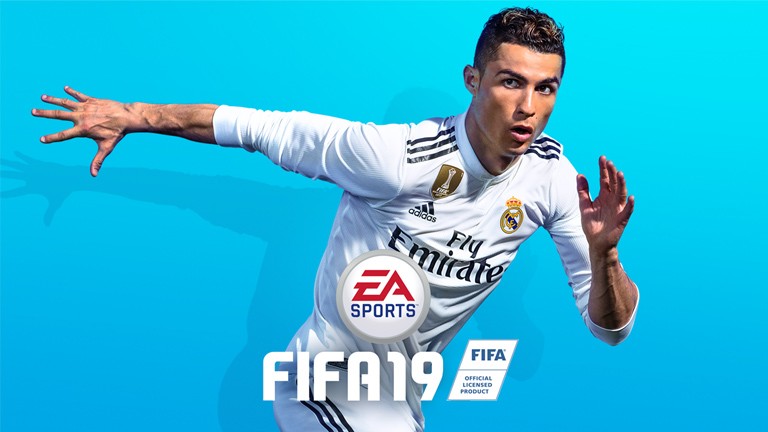 FIFA 19 out now: New features, Ultimate Team, player ratings, cost to buy & more!
Goal
09:30 1 COMMENTS
EA Sports
Goal pieces together all the information about the most anticipated football video game release of the year
FIFA 19 release day is finally here!
The game's developers launched a World Cup 2018 edition on FIFA 18 to accompany the tournament in Russia but gamers can now get their hands on the latest iteration of EA Sports' football game.
With September 28 being the global release day, Goal has the complete guide to everything you need to know about the latest EA Sports FIFA game.
Editors' Picks
When is FIFA 19 released?
There had been talk that there might not even be a FIFA 19 release, with EA Sports chief executive Andrew Wilson stating in a recent interview with Bloomberg that the title could move to a Netflix-style subscription service .
But EA Sports confirmed that the game will be released globally on September 28 , which is consistent with previous release dates and ideally timed before the festive period.
Like FIFA 18, there are three different editions: the standard edition, Champions edition and Ultimate edition. The latter two editions replace the 'Ronaldo' and 'Icons' editions of FIFA 18.
Some gamers will have been playing the game already by virtue of pre-ordering either of the two special editions, which were released earlier than the standard version.
What formats is it available on?
FIFA 19 is available on all the big platforms: Xbox One , PlayStation 4 , PC and Nintendo Switch .
However, it must be noted that the Ultimate edition of the game is only available on Xbox One, PlayStation 4 and PC.
How much does FIFA 19 cost?
The new release is slightly more expensive than FIFA 18, with prices starting from £59.99 ($59.99) for the standard edition across all platforms.
The Champions edition will cost £79.99 ($79.99) and the Ultimate edition will set gamers back £89.99 ($99.99).
Only the standard and Champions editions are available on the Nintendo Switch, with the latter costing £69.99 in the United Kingdom and $79.99 in the United States.
| Console | Standard | Champions | Ultimate |
| --- | --- | --- | --- |
| PlayStation 4 | £59.99 / $59.99 | £79.99 / $79.99 | £89.99 / $99.99 |
| Xbox One | £59.99 / $59.99 | £79.99 / $79.99 | £89.99 / $99.99 |
| Nintendo Switch | £54.99 / $59.99 | £69.99 / $79.99 | - |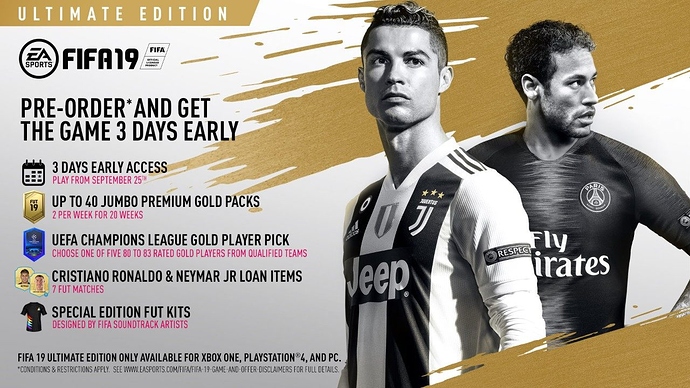 Gamers who pre-ordered the game received some extra FIFA Ultimate Team (FUT) player packs to bolster their new team on the popular game mode, with the more expensive editions yielding greater rewards.
Standard edition
Up to five Jumbo Premium Gold Packs
Cristiano Ronaldo loan for seven FUT matches
Special Edition FUT kits designed by FIFA soundtrack artists
Champions edition
Up to 20 FIFA Ultimate Team Jumbo Premium Gold Packs
Play from September 25 (three days early access)
UEFA Champions League Gold Player Pick
Cristiano Ronaldo and Neymar loan for seven FUT matches
Special Edition FUT kits designed by FIFA soundtrack artists
Ultimate edition
Up to 40 FIFA Ultimate Team Jumbo Premium Gold Packs
Play from September 25 (three days early access)
UEFA Champions League Gold Player Pick
Cristiano Ronaldo and Neymar Jr loan for seven FUT matches
Special edition FUT kits designed by FIFA soundtrack artists
Who is the FIFA 19 cover star?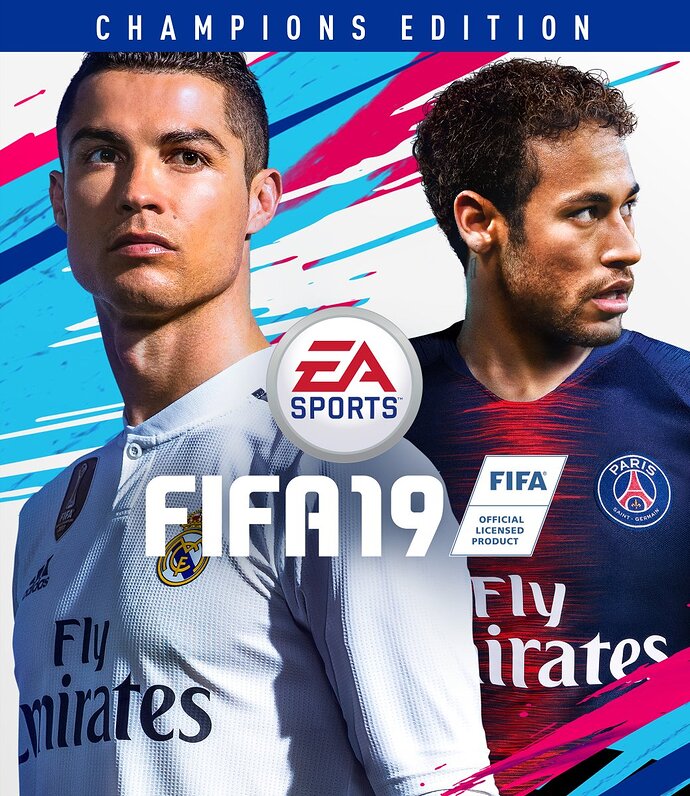 As mentioned, the cover of FIFA 19 features Ronaldo for the second year in a row, with the Portuguese heavily involved in the promotional content.
However, the transfer of the 33-year-old to Juventus threw EA Sports a curveball, since the original imagery showed the forward in his Real Madrid kit. However, that was changed shortly afterwards.
Ronaldo will share the spotlight in the new game as he is joined on the front of the Champions and Ultimate editions by PSG's Brazilian talisman Neymar .
Having two players on the front cover is a slight reversion in style for the FIFA series, which preferred a single player on FIFA 17 and FIFA 18.
What new leagues are in FIFA 19?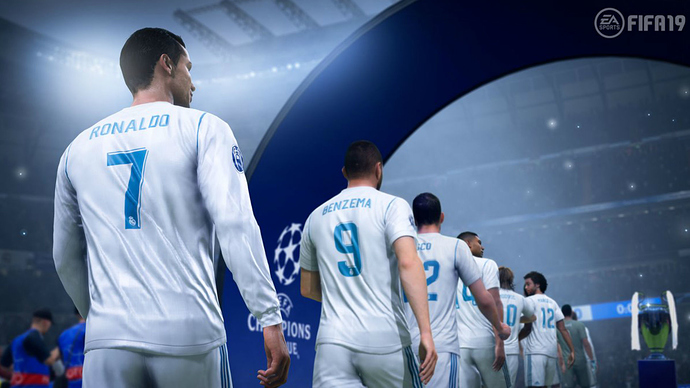 After nearly a decade of jockeying, EA Sports has finally secured the rights to the UEFA Champions League , with the cherished competition set to be carefully integrated throughout FIFA 19.
Released globally on September 28, FIFA 19 won't simply add the Champions League trophy to its cabinet, instead re-turfing the whole pitch to ensure the tournament is woven thoughtfully throughout the whole game.
From Ultimate Team to the Journey, the Champions League is front and centre of FIFA 19 and as executive producer Aaron McHardy explains it's an addition many years in the making.
"This has been one of the most requested features from our players for over a decade, and for us the Champions League is so much more than a licence," McHardy told Goal .
"We've been working really hard to integrate the experience across the game in FIFA 19 and I don't say that lightly.
"We didn't want to just bring in the licence teams so you can play with them in the right context, we really wanted to go over and beyond and add Champions League elements to every place we could in FIFA 19.
"It's been a whole lot of work and it's not just a coat of paint. It's really integrating meaningful features around the Champions League. We moved a lot of dirt bringing it to life."
As well as the Champions League, FIFA 19 also includes the Europa League , UEFA's second-tier club competition.
While it is not as glamorous as the Champions League, the Europa League has featured some of the best teams in the world, with the likes of Chelsea, Arsenal and Sevilla competing in the 2018-19 edition.
What are the game's new features?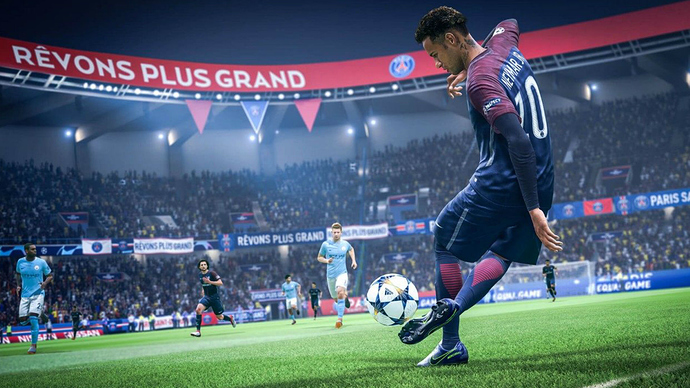 The new game has an 'active touch' feature, which changes the way players receive and strike the ball, as well as a 'reimagined tactical system' and 50/50 battles.
I truly hope EA is building more servers for the weekend league#FIFA19
What people really want to see, however, is an improvement in server performance – even real life teams' eSports gamers such as New York Red Bull's Mike LaBelle have made their frustrations known.
Since the release of FIFA 18, the gaming community has grumbled that the servers are too unstable, causing disconnections midway through games that result in a DNF (did not finish) modifier, which affects rewards from future matches - time will tell if anything's changed.
There are also new game modes in FIFA 19, with gamers able to play matches that allow them to foul their opponents without being pulled up by the referee. There's also a 'headers and volleys' option, where players can only score with a headed goal or a volley, and also a 'long-range shot' mode. All of those options are available in the 'Kick Off' area of the game.
What about Ultimate Team?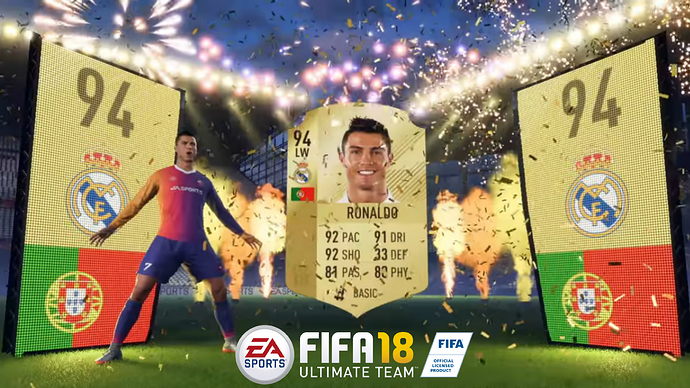 The popular Ultimate Team mode continues in FIFA 19 and there are naturally some slight alterations.
With the Champions League and Europa League featuring heavily in the new game, there will now be live content updates from those competitions in Ultimate Team.
EA Sports will also disclose pack odds on certain packs so that gamers will have a better idea of what they are getting.
"For Ultimate Team, when you buy a pack you know what you are getting," EA's vice-president Daryl Holt explained to Eurogamer .
"You are getting a certain number of assets that are guaranteed - and we're going to start to do pack odds disclosures that'll show you the odds of what you might get.
"That'll be in our product year 19 titles. So, at least that aspect of understanding what the chances are of getting X, Y and Z card."
FIFA 19 Player Ratings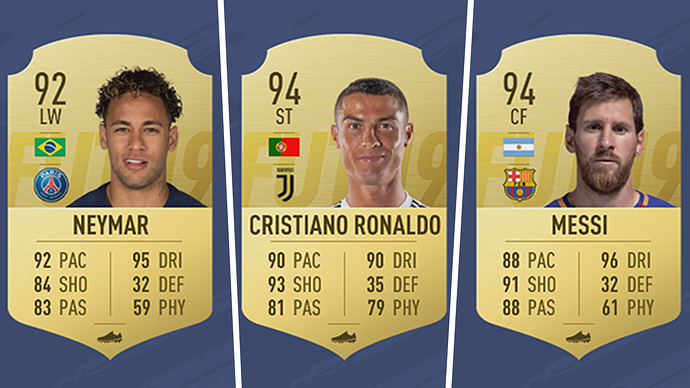 Goal has compiled the list of the best 100 players in the game, and there's a tie at the top, with Cristiano Ronaldo and Lionel Messi both receiving a 94 rating.
If you're after Premier League ratings specifically, we've got you covered, with the top players from England's top flight all listed here.
You can also take a look at all the players with five-star skills, the best dribblers in the game, and who has the highest top speed!
FIFA 19 Icons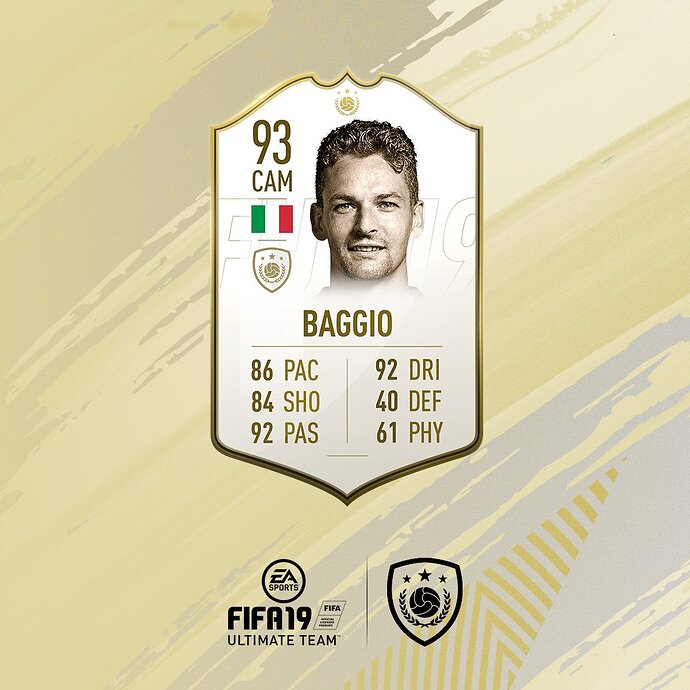 EA Sports introduced 'Icons' to FIFA 18, with some of the greatest players in history gracing the game.
The Icons concept replaced the earlier 'Legends' that had featured in previous instalments and the players became available in Ultimate Team, meaning squads could now blend the past and present.
Among those to take their place in the FIFA series as Icons in FIFA 18 were Diego Maradona, Thierry Henry and Ronaldo.
FIFA 19 features some new Icons, with the likes of former Italy and Juventus star Roberto Baggio joining the ranks alongside his compatriot, 2006 World Cup winning captain Fabio Cannavaro.
Other new Icons include Raul, Rivaldo, Steven Gerrard, Eusebio, Frank Lampard, Claude Makelele and Johan Cruyff.
The Journey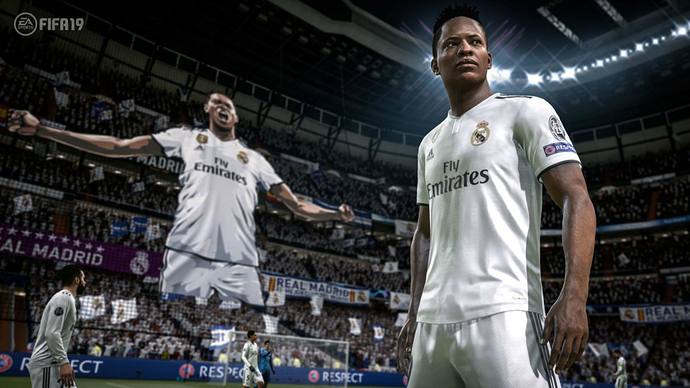 In FIFA 19 we see a return of hugely-popular mode The Journey, which makes its third appearance in a row. However, it is the final instalment in Alex Hunter's odyssey.
The character made his first appearance in the game series in FIFA 17, in which the aim of the game is to make a breakthrough at a Premier League club.
In FIFA 18, Hunter returns, but his journey takes him to Major League Soccer side Los Angeles Galaxy before he later returns to Europe.
The FIFA 19 Alex Hunter story is called 'The Journey: Champions', in keeping with the game's new Champions League features and winning the biggest prize in club football is the aim.
Click here to read more about the third and final instalment of The Journey.
FIFA 19 Soundtrack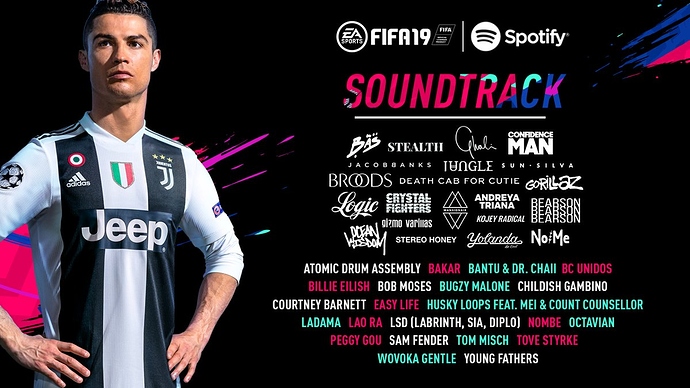 The FIFA 19 soundtrack features some of the biggest artists in the music industry, including Gorrilaz, Logic and Childish Gambino, whose featured track 'Feels Like Summer' is a particular highlight.
Washington alternative rock band Death Cab for Cutie are also among the line-up, as are electronic folk band Crystal Fighters and supergroup LSD (Labrinth, Sia and Diplo)
The soundtrack aims to reflect a diverse array of music drawn from every corner of the globe and there are musicians from Germany, Australia, Scotland, France among others.
EA Sports also enlisted the services of award-winning composer Hans Zimmer, along with rapper Vince Staples to come up with a new spin on the iconic Champions League Anthem
The composer brought 68 "carefully picked" musicians to AIR Studios in London to record the new song, which is essentially a remix of Tony Britten's instantly recognisable original.
Zimmer's Champions League song for FIFA 19 can be listened to in the trailer and in the video above.
Watch the FIFA 19 trailer
Fans of FIFA were able to get a first glance at this year's release at the EA Play event held on Saturday June 9.
The new trailer for FIFA 19 featured an opening narration by cover star Ronaldo detailing his hopes of becoming a "champion" in football, following him on the path to his third successive Champions League trophy.
Fans are also be treated to a FIFA rendering of his classic overhead kick fired against Juventus for Real Madrid in the quarter-final of the competition earlier this year.
Paris Saint-Germain star Neymar also makes an appearance, as well as Paulo Dybala of Juventus and several Manchester City stars.