Warner Bros. Interactive Entertainment has detailed four special editions for NetherRealm's Mortal Kombat X that range from $89.99 to $179.99.
First up is the Mortal Kombat X: Kollector's Edition by Coarse, which will cost $149.99 on PlayStation 4 and Xbox One. This version of the game includes an exclusive Scorpion figurine and Certificate of Authenticity, designed by Coarse, an in-game Gold Scorpion Skin— inspired by the Coarse figurine—and The Kombat Pack, which includes access to four add-on playable characters from Klassic Kombatants to Iconic guest characters.
Next is the the Mortal Kombat X Kollector's Edition, which has been imported from Europe and is available exclusively from Amazon.com for $179.99 on PS4 and Xbox One. The Kollector's Edition includes a Scorpion statue, an exclusive steel pack and card, a copy of Mortal Kombat X: Blood Ties Comic Book Volume 1, the in-game gold Scorpion skin, and The Kombat Pack.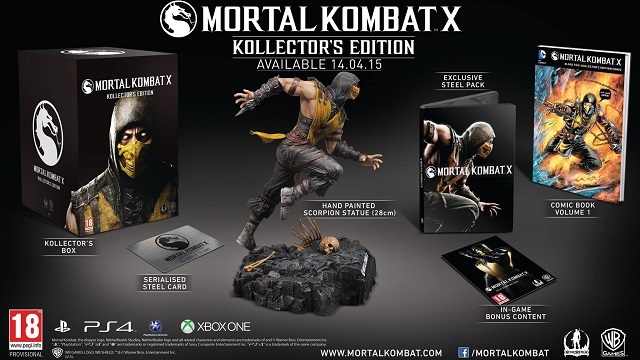 Two cheaper options are also available: The Mortal Kombat X Limited Edition and the Mortal Kombat X Premium Edition.
The Limited Edition is available exclusively from GameStop for $94.99 and includes The Kombat Pack and an exclusive Scorpion skin which is inspired by the Cold War and is the result of a collaboration between NetherRealm Studios and a fan artist from the MKKollective.com. Finally, the Premium Edition is only available via digital download on all platforms for $89.99 and includes The Kombat Pack.
On top of all this, pre-ordering the game will unlock Goro, the feral, four-armed Shokan warrior, as a playable character.
Mortal Kombat X is set to launch April 14 for PlayStation 3, PlayStation 4, Xbox 360, Xbox One, and PC.
http://www.egmnow.com/articles/news/mortal-kombat-x-kollectors-premium-and-limited-editions-detailed/