PC, XO, Android, iOS… Fable Hearthstone.
Gde ide ovaj svet… Prosto se plašim…
Eh, ovo je samo plod Fil Spenserove vizije da se manu corava posla sa AAA ekskluzivama i orijentisu na mejnstrim service-microstransaction-based igre.
Bice toga jos na E3.
Ako bude još toga, onda će definitivno biti hardcore gangbang na E3, samo ne onaj koji se očekivao.

Većina zbog Scorpia polaže nade u MS da će razvaliti ovaj E3, ali neće sigurno, opet će Sony pokidati, pre svega i Quantum Break je bio fail, a i otkazan je Scalebound. Dobri su Gearsi i Forza, verovatno i Halo (nisam igrao), ali to im neće doneti pobedu na E3 jer to svi očekuju. Sa druge strane tu je Sony sa novim Spidermanom, Days Gone, a takođe i posle dosta vremena stižu God of War i Last of Us 2. I pored svega toga očekujem da će biti još par dobrih igara, tako da mislim da će Sony ove godine imati možda i najjači E3 lineup.
Ova igra nema veze sa Microsoftom. Projekat je kistarterovan od strane ex-Lionhead developera a MS im je dao/poklonio pravo da koriste "Fable" IP. Nigde veze ni sa E3 ni sa Scorpio, al' ajde.
Microsoft ocigledno nema nista da pokaze osim hardvera i danas je super-oprezan sa AAA igrama jer su se opekli na QB i Halou 5. Ne tvrdim da nece uspeti sa novom strategijom, samo nekako uvek diverzifikuju od svoje ciljne grupe a to su hardcore gameri i guraju se tamo gde im nije mesto - te Spilberg, TV, motion kontrole, family friendly koncept konzole… sada napadaju isto ciljno trziste gde dominira Heartstone, iz cistog razloga sto je popularan na Twitchu. Svejedno, verovatno cu kupiti i Scorpio i 4K TV i Live pretplatu tako da je ovo samo old man yelling at the sky.
Još jednom, ova igra nema veze sa MS, Scorpiom ili planovima za E3.
Pa sad, nije baš da nema veze sa MS. Trebali su delimično da finansiraju igru, ali su odustali. Ostavili su im pravo na korišćenje Fable IP.
Poenta je da opet koriste Fable IP za neku F2P igru u nekoj potrazi za ljudima koji igraju slične igre, a koje sigurno neće dobiti zbog prevelike konkurencije. Umesto da daju nekom studiju da radi na Fable 4, oni rade ovo. Nekako je razočarenje da je Fable spao na to.
Ako najave Fable 4, super, ali za sad deluje da je ovo još jedan u nizu IP koji su izvedeni u šumu, upucani i zakopani od strane kompanija jer su im loše upravljali.
Sledeci su Cards of War i Halo Worlds sa skupim skinovima

Ako bi napravili Gears Of War kao drating igru u stilu Hero Realms, a Halo kao Star Realms, to bi i moglo da funkcioniše. To bi i voleo da vidim. A ne samo kopiju HS bez mnogo mašte.
Što više razmišljam, Halo igra u Star Realms stilu deluje kao dobra fora. Ima dovoljno raznovrsnih brodova, ima dovoljno frakcija uz malo razvlačenja definicije frakcije: Humans, Covenant, Flood, četvrta bi mogli da budu Prometheans.
Ah, nisam video tvoj prethodni post.

Mada, prilicno velikodusno od MS-a da tek tako pokloni IP?
Što da ne… ne može da naškodi a i verovatno su se razišli u dobrim odnosima. Oni su im samo pozajmili IP, i dalje ostaje u MS vlasništvu ali izgleda da duuuugo vremena nećemo videti pravi Fable RPG. Grrr.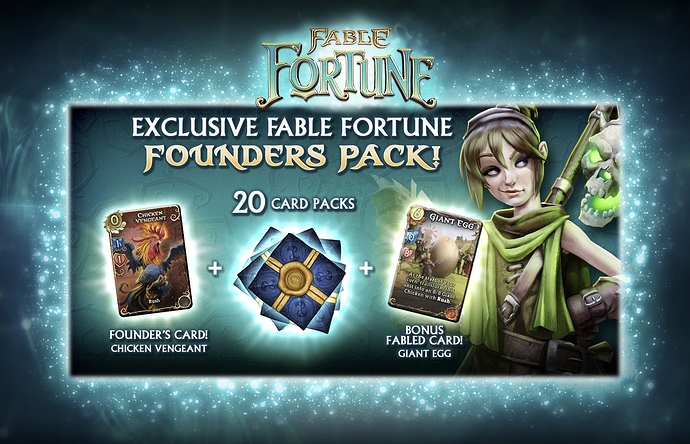 Flaming Fowl and Mediatonic Delivers Your Fable Fix on July 11th
Co-developers Flaming Fowl Studios and Mediatonic announce today that fans of the Fable franchise can travel back to the whimsical and iconic world of Albion as the collectible card game Fable Fortune launches on Xbox One and PC on July 11th.
Fable Fortune combines pioneering CCG systems with some of the franchise's most cherished moments; featuring timeless heroes, despicable villains, armies of bemused (and conveniently expendable) peasants, and some good old fashioned, family-friendly necromancy.
Choose from one of six heroes each sporting diverse powers and cards, and set forth to crush your opponents under a hobbe-nailed boot in either classic PVP mode, or the unique and fully integrated Co-op mode. Discover how the iconic Alignment mechanic can be used to shift heroes towards a good or evil path during play; transforming their powers, altering their card effects, and turning the tide of battle in one chicken-kicking* hand.
Interested Adventurers can gain access to Fable Fortune at launch by picking up the Founder's pack for $14.99 / £9.99 / 12,99€. Containing over $40 worth of in-game items including 20 packs of cards to open, the exclusive Flaming Fowl** Trophy Card and the very rare (You might even say 'Fabled') Giant Egg card. Fable Fortune will be Free to Play later in the 2017, but the Founder's Pack is available to those wanting to join us early on!
Purchasing the Founder's Pack is the best way fans can support this development whilst also gaining some amazing rewards, the undying gratitude of the developers and a cheeky 20% discount the week of launch.
Currently in closed beta, check out more information on Fable Fortune at fable-fortune.com.