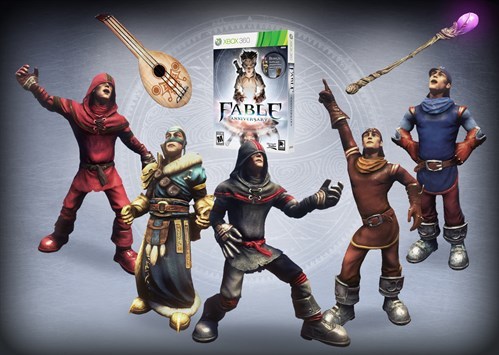 If you've been following the progress of Fable Anniversary's development, you'll already know that the game will be launched in February 2014. The question of when exactly in February hasn't yet been answered, until now…
Those desperate to get their hands on Fable Anniversary as early as possible will be pleased to hear that it will hit the shelves on the 4th February 2014 in North America, the 6th February in Asia and the 7th February in Europe! Check with your local retailer for details.
But that's not all. Are you looking for yet another reason to grab Fable Anniversary the second it hits the high street? Then look no further - we're excited to reveal that all first edition copies of Fable Anniversary will include the following additional bonus content which you won't want to miss!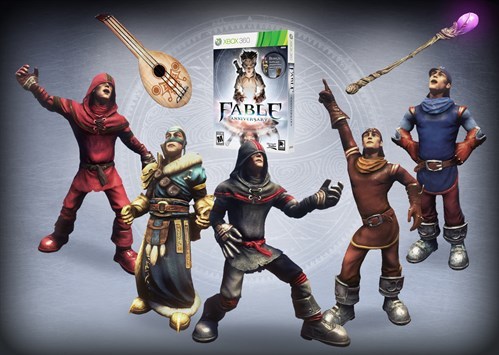 Contained within each limited-run box you'll find a 5x5 code for the Launch Day Outfits & Weapons Pack which will all be packaged up in a shiny, slip-on embossed case. Ooooo! We thought to ourselves; what famous Fable characters would our fans like to dress up as on day one? The answer was simple… for the first time ever, your Hero can now dress up as Scythe!
The full pack contains:
Scythe's Outfit
Black Graduate Outfit
Red Prophet Outfit
Blue Guard Outfit
Red Guard Outfit
Lute Weapon
Will User's Sceptre Weapon
And if that's not enough, we've also included a very special Avatar item for all our loyal Lionhead fans which we hope you'll wear with pride!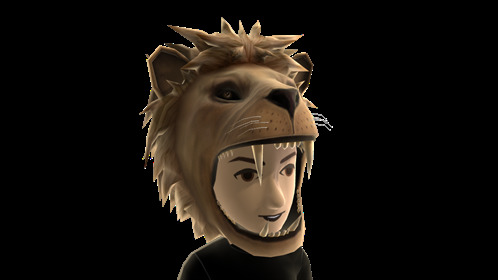 10th Anniversary Lion's - Head Avatar Helmet
If you've already pre-ordered, you're good to go. If not, act fast as supplies for the above are limited to the initial print run of the game and we don't want any disappointed faces.
Now what kind of bonus announcement would this be without stuff you can have now? Well, to celebrate our reveal we thought it's only fair that the fun doesn't end there and you deserve some added visual delights for immediate consumption. For those who can't quite think back to the time they first explored Albion, and our newbies looking to get up to speed with what's changed; we've got it covered with some exclusive comparison shots below.
Still not enough? How about updating your desktop wallpaper with one of these stunning fresco themes which are available to download now at no additional charge.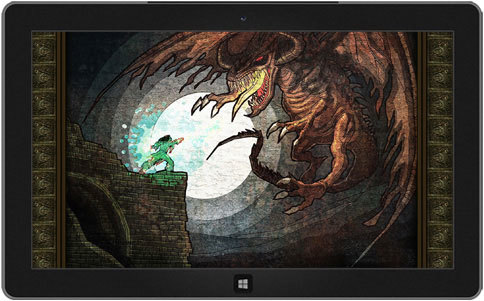 We hope this has made your pre-launch excitement even more exciting. We cannot wait to share the game with you in February.
Until then. Sit back and enjoy our newest nostalgic collection made especially for you…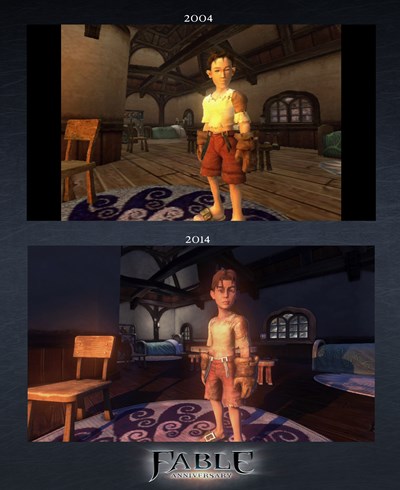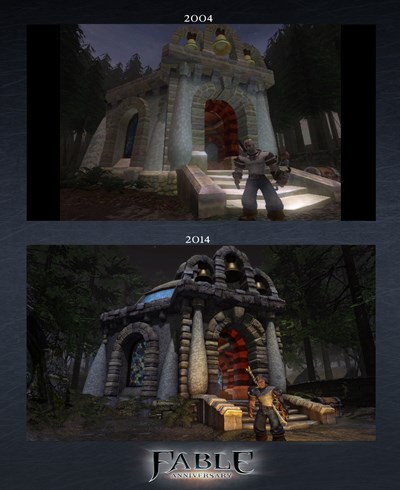 Blog - Latest News from Lionhead : Fable Anniversary Release Date and Bonus Content Announce!