A sequel to action-RPG tower defense Dungeon Defenders is on the way, imaginatively titled Dungeon Defenders 2. And, like almost anything with even a whiff of towers nowadays, it's picked up a competitive MOBA mode inspired by the likes of Dota and League of Legends. Announced yesterday by developer Trendy Entertainment, it'll be free-to-play on PC, Mac, browsers, iOS and Android.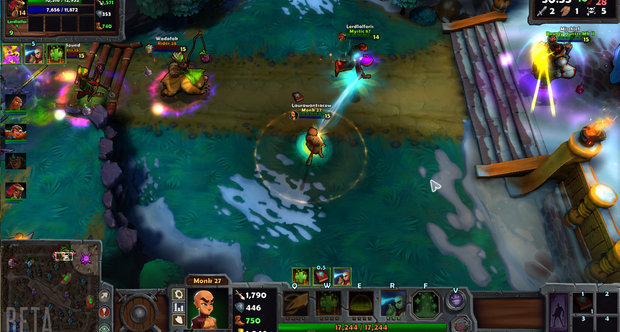 As well as the original's tower defense-y action-RPG-y defend-o-kill fun, the sequel introduces a 5v5 competitive Dote 'em up mode. In fact, it's the main focus right now, currently in closed beta testing. One of the announcement screenshots shows yes, it is essentially the same Dota map layout we've seen in a dozen games, though slightly closer to LoL's take on it.
Its free-to-play model sounds pretty LoL-y, with a rotating pool of free heroes and more to unlock with real money or earned virtual currency. It'll also sell cosmetic items and the like.
Dungeon Defenders 2 will continue the fine feature of cross-platform play.
You can sign up to test the Dota mode if you fancy. Its classic co-op defense mode should enter beta testing in "late 2013 or early 2014." Hit the official site for more.