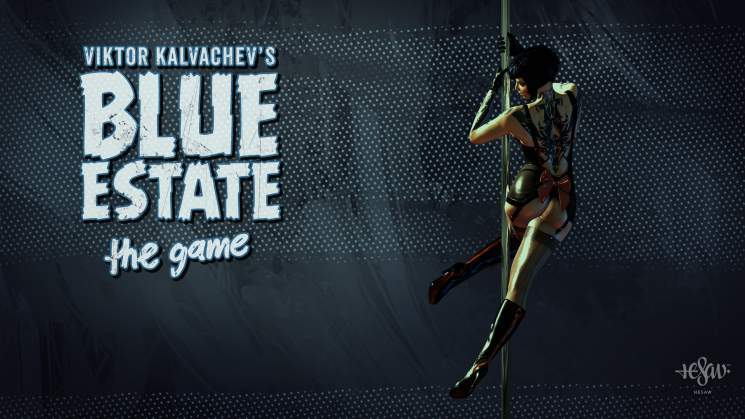 Blue Estate will be available on February 18, 2015 on Xbox One for $12.99.
Xbox Live Gold members are entitled to an exceptional 20% discount for a limited time!
Hesaw today unveils the ARCADE MODE of BLUE ESTATE, an exclusive feature on Xbox One, the all-in-one games and entertainment system from Microsoft.
THE ARCADE MODE
The arcade mode is playable as an alternative to the classic story mode. This mode can be unlocked by playing the story mode, and can be accessed from the main menu.
These additional gameplay sequences take places in 7 exclusive levels, where the player has to overcome new sets of challenges with new gameplay rules.
The arcade mode is playable in single player only, in 3 difficulty levels.
KEY FEATURES
1/ "Kill to survive"
To stay alive, the player must kill enemies at regular intervals. There is no health gauge. Instead, a timer is displayed at the bottom of the screen, indicating how much time is left to kill an enemy. This timer is reset each time an enemy is killed. If the timer reaches 0, the game is over.
2/ Acquiring New Weapons
The player starts the level with a handgun. It is possible to acquire stronger weapons by getting a decent killstreak without taking damage. A counter displayed on the bottom right-hand side of the screen indicates how many enemies the player must kill to acquire the next weapon. Each time the player is shot, this counter is reset. Acquired weapons cannot be lost.
3/ Using the Slow-Motion
On the bottom left-hand side of the screen, a slow motion gauge fills itself up with each headshot kill. When the gauge is full, it is possible to trigger a slow motion phase at any time, very useful when facing a large number of enemies, or to avoid the timer running out.
4/ Fast Forward
The player's skill and speed are rewarded with a fast forward feature: when all on-screen enemies have been killed, the camera speeds up until the next wave of enemies is triggered. This feature is represented by an icon displayed on-screen. Each second of fast forward earns the player bonus points.
5/ New scoring system and dedicated online leaderboards:
· Bodyshot kills earn the player 1,000 points, headshot and nutshot kills 2,000 points
· In slow motion, points for each enemy killed are multiplied x3
· Each second of fast forward earns the player 5,000 points
· Each weapon acquired earns the player a 50,000 point bonus
· All points earned are multiplied x2 on Abnormal and x3 on Crazytrain
· Killing all enemies in a level earns you a 100,000 point bonus at the end of each level.
The global ranking is calculated based on the total score, and is displayed as a letter, the best being an "S" ranking.
Blue Estate, the darkly funny rail shooter developed by HESAW and based on the Eisner Award-nominated Blue Estate comic books from Viktor Kalvachev, will be available February 18, 2015 on Xbox One via the [email protected] self-publishing program for $12.99. All Xbox Live Gold members can also take advantage of a special discount of 20% for a limited time!