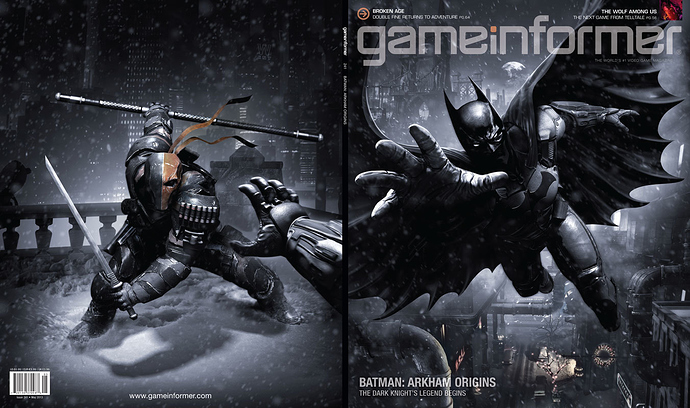 Game Informer May Cover Revealed: Batman: Arkham Origins
Warner Bros. Games Montreal has taken the mantle of the bat from Rocksteady Studios this time around for Batman: Arkham Origins. WB Montreal has full access to Rocksteady's custom modified Unreal engine to capture the look and feel of the Arkhamverse. As the title suggests, the game takes place years before both of the previous Arkham titles when a young, unrefined Batman encounters many supervillains for the first time. On our full cover image below, fans will recognize the assassin Deathstroke, who appears for the very first time in a core Arkham game.
Heading up the vision for Arkham Origins is creative director Eric Holmes, known for being the lead designer of open world action hits The Incredible Hulk: Ultimate Destruction and Prototype. A self-professed lover of comics, Holmes even wrote the miniseries Transformers: Megatron Origin for IDW.
Gamers won't have to wait long to experience Batman's lastest adventure. Batman: Arkham Origins releases October 25, 2013 on Wii U, Playstation 3, Xbox 360, and PC.
But that's not all. We also have a feature on the first handheld Arkham game, Batman: Arkham Origins Blackgate. Releasing on 3DS and Vita the same day as the home console version, Blackgate is a completely separate experience that takes place after the events of Arkham Origins. Armature Studio is developing the 2.5-D Metroid-style exploration action game. Industry followers will recognize Armature Studio as the company founded by several of the leads from the Metroid Prime trilogy.
Awww yeah, sve je bolja i bolja ova godina

Izvor: http://www.allgamesbeta.com/2013/04/batman-arkham-origins-confirmed.html