Svaki Ubisoft leak je tačan, verovatno oni to sami namerno i leakuju da privuku pažnju.
Ne sviða mi se što kažu da se demo na PCju vrteo u "fairly steady 30fps", otprilike nas čeka još jedna neoptimizovana igra od Ubisofta.
A do sada je bilo optimizovanih igara?
Koga mrzi da cita:
Started working on game before Unity
Brand new fighting system
New A.I.
No minimap but a Elder Scrolls–type compass at top
No more sprinting button; speed depends on analog stick
Crouching is back
Story is being kept a secret
Eagle Vision is a subtle pulse that highlights objects not enemies
Takes place during the ascent and reign of Cleopatra
You can climb everything in the game
Large and small cities with many landmarks including Memphis and Alexandria
The controllable eagle leak was true
NPCs have a day/night cycle and includes time for them to eat, sleep, work, and "answer the call of nature"
Attack buttons are the right shoulder and trigger
A.I. does not take turns to attack
New combat system is more hit-box driven
As you fight, an adrenaline gauge fills up, and when both attack buttons are pressed powerful attacks are unleashed
Left shoulder button is lock on
There are treasures to find in the depths of the water (sunken ships, long-forgotten ruins)
Stat element of customization is removed
New gear system where players can improve specific parts of your gear by crafting materials
Leveling system that has a level cap of 40
Bayek is not the only playable character in the game but [the other] character is a secret
There are legendary items to loot in the game
You can add blocked arrows to your inventory
You can no longer one hit enemies that are more powerful than you with your hidden blade
Buttons for free-running up and down are removed
Puzzles are back but more challenging and less switches
Much more in depth ability graph with 3 paths (Seer, Warrior, Hunter)
There are gladiator battles in arenas
Nisam bio ovoliko uzbuđen (don't even try it…) još od ACII i praćenja svih vijesti prije izlaska.
Hype.
Dal se hajpujete na Ubi igre? Neki ljudi izgleda nikada nece nauciti. Sacekajte da izdje pa onda padajte u nesvest. Unapred nista.
AC 1 i 4 su mi bile vrhunske igre, bas sam uzivao dok sam igrao. Sve ostalo mi je biko jedno te isto, ali ovaj AC mozda bude sledeci naslov koji me odusevi… Videcemo…
Meni su sve AC igre Vrhunske,sem rogue koji je cista kopija black flaga,a najvise mi se svidjeo Unity(yes i said it right)
Mene samo kad vidim ovu sliku pukne žestoki hype.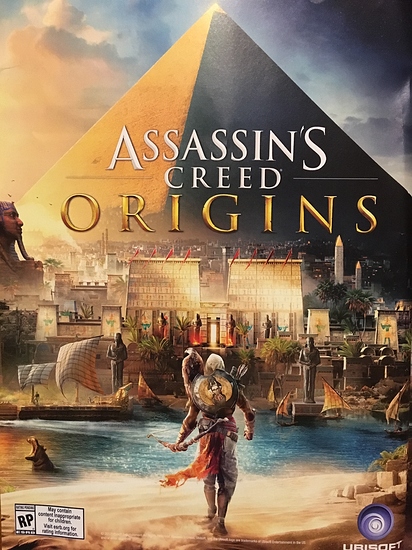 Sve što sam pročitao dosad mi se sviđa osim ovoga za optimizaciju i frame rate, nadam se da će i to srediti do izlaska igre, jer to može da upropasti odličnu igru (tebe gledam Arkham Knight). Meni je AC II najbolji u serijalu, i ta celokupna priča oko Ezia mi je bila vrhunac serijala. Jedino je između prvog i drugog dela bio razmak 2 godine, pa evo opet sad, znači ovo mora biti dobro kao dvojka.

Meni ovo lici na nekog witcherovog klona sto se gameplaya tice

to su i sami rekli,nekoliko put,kombat nece biti lak kao u unity vec ce biti vise nalik witheeru,takodje sistem levelovanja ce biti slican witcheru,a i sistem kraftovanja i jos mnogo toga
Sto vise lici na vicera bice bolji…
Nekako mi cudno da su tek sad, posle surnaest AC igara, stigli do egipta. Sve nesto mislim, ma sigurno je vec bio neki egipat ranije…
Fino je sto prica malo odskace kao sto je Black Flag bio, i on mi se najvise i svideo. Doduse sve posle toga nisam ni igrao, ali me nije ni toliko privlacilo. Jos kad sam u jednom od novijih delova video da mozes da budes nevidljiv, cloak mode kad si u stealth-u… Ma daaaaaj. Preterase ga. Ali ako ovo urade kako treba i ako te gladiatorske borbe u areni budu dobre, teska srca - Shit I'm in. Samo da ne bude previse tog kraftovanja, jer to me iskreno smara. Witcher je full igra, ali pola stvari mi stoji u inventaru koje ni ne znam za sta sluze niti da li cu ih ikad upotrebiti.

Ono sto mene zanima je prica, prica i prica , ne zelim da ubijaju pricu i da razvodnjavaju igru nepotrebnim "open worldom" , nekim sporednim misijama koje dosade za 5 minuta i nepotrebno velikim i praznim mapama.
Ono sto zelim je misterija, ezoterija, aluzije na neke popularne naucne teorije (kao sto su recimo teorija o Drevnim astronautima, ko je gradio piramide, zasto, ko su zapravo bili paganski bogovi u Egiptu, ko faraoni…itd) , prica puna obrta.
Trazis to od pogresne igre…
Ja se radujem novom AC-u. Meni su Syndicate i Unity bili odlični. Baš nikakvih problema sa igrama nisam imao, kupio sam ih nekoliko mjeseci nakon izlaska, instalirao update i sve je bilo kul. Plus dobio besplatan story DLC za Unity (fallen kings čini mi se), koji je fenomenalan, a dali su ga svima besplatno zbog početnih problema sa optimizacijom koje ja nisam osjetio.
Svi su ogorčeni na Ubisoft a ja uopšte nisam. Meni je Division bio odličan, jedna od igara na ps4 uz koju sam se najviše zabavio definitivno. Main story prešao solo, u Dark Zoni igrao par puta sa drugim igračima i ukapirao da mi je zanimljivije da igram sam (izazovnije), pa sam sam ubio 20 rogue agenata (što je bilo prilično teško) i uzeo platinu. Meni je to bilo prezabavno, ali opet to sam samo ja.
Ghost Recon Wildlands mi je takođe odličan, uživam igrajući ga.
Samo da je ubisoft napravio bolje price u unityju i syndicate bilo bi odlicno jer igre uopste nisu lose koliko ih drugi pljuju a ni ne odigraju igru.
Ne , ne trazim , mislim od koje igre onda da trazim to ?
Mislim Assassin's Creed je imao sve to sa Eciovom trilogijom, pa i sa AC4 : Black Flagom.
Mislim ja se odavno interesujem za te stvari , jos od osnovne skole , i upravo je to ono zbog cega me je Assassin'e Creed serijal privukao sebi i zbog cega sam postao fan fransize.