Ovo naravno nece raditi kod nas??
Morace neki VPN?
Instalirao skoro app na telefon, ali traži da budem deo insider programa. Elem, kad će ovo na iphone?
Radi dosta jednostavno ja sam pre par meseci isprobao. Potreban je vpn ali isto kao sto sam ga koristio i za Spotify ranije, dakle upalim ga samo da prodje login, kada se sve pokrene ugasim vpn i to je to, dovoljan je i onaj besplatan jer je to jako malo podataka.
Koji si koristio. Na iphone imam ok. Ali nemam ni jedan na Huawei.
Baci i izgled ikonice programa sa store.
Posto kada kucam xcloud izadje gomila gluposti.
Koristio tunnelbear, on mi godinama odradjuje posao za tako te male stvari jer mislim da dobijas giga svaki mesec.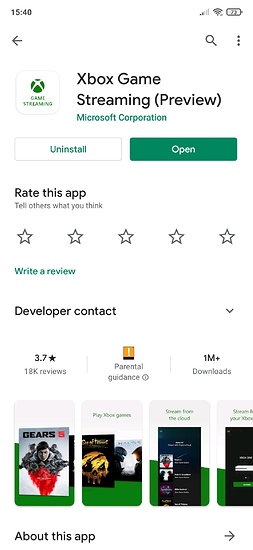 Gotov je preview program koliko vidim. Sad treba da se sačeka 15.9. da bi se igralo.
Ja ovo koristim vec neko vreme i radi perfektno do duše treba stabilan net.
Da tako je i meni jer nema za nase trziste, ali sam ja preko vpn i aplikaciju trazio. Ukljucim vpn obrisem cashe pa probam, mozes i u chrome da probas, pa te on posalje u prodavnicu, ali sve to sa vpn dok ne dodjes do aplikacije.
I ja sam magarac! Logicno. Lepo pise spisak zemalja.
Jel i dalje radi? Skinuo sam app i ubacio se u insider program. Ali mi sad piše da je preview prošao i da kreće 15.9.
Kako si uradio da ti store vidi VPN lokaciju a ne tvoju sadašnju ili onu koja stoji kada ne koristiš VPN?
Ove vesti danas su verovatno izbačene zbog onoga što sledi sutra:
Neko je požurio ili procureo sa objavom, ali ovo smo znali da dolazi:
Nemam pojma, nekad oce nekad nece, ali uvek hoce preko pretrazivaca, onda u njemu kliknem i on otvori tu app u store. Brisanje keša, stopiranje storea, pa onda ponovo sa vpn mi uspe, ali uglavnom uz malo drndanja i par pokusaja.
Probao sam, te ocistim.kes te ovo te ono i nula.
Iznervirao se samo. Se…m im se u igrice i sve.
I ovo glupavo vreme regioni, gluposti… jbt hoce covek da potroai pare i ne moze…
Bem ti i zemlju u kojoj smrdim… ni glupave igrice ne mozes da igras da nesto ne moras da majmunises…

Sacekaj da izadje zvanicno mislim da je za mesec dana, moguce da ti ne izlazi jer je jos uvek preview ma si morao da se prijavis preko xbox sajta, zaboravio sam to davno sam to uradio.