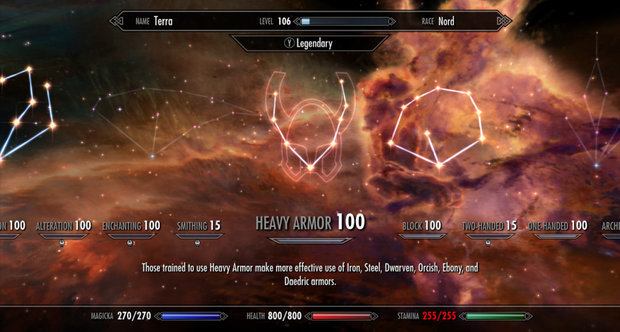 Skyrim's 1.9 update has been available on PC for a few weeks, after beginning its beta last month. Console players have had to wait a bit longer for the patch, but the update is live starting today.
The Bethesda Blog announced that it is available via automatic update. As previously reported, the update adds a "Legendary" difficulty setting, and lets you reset a skill as "Legendary" once it hits level 100. That resets it to level 15 and resets the perks, which essentially removes the level cap by letting you use the skill for leveling up again.
Like the PC 1.9 update, it includes a long list of bug fixes as well. These include some crashes, and several mission-specific bugs that would trip up your progress. Most disturbing is one fix that comes to a rare bug that could trap you in the Night Mother's coffin during the "Death Incarnate" mission, which sounds like some kind of strange Tamriel version of a Twilight Zone episode.