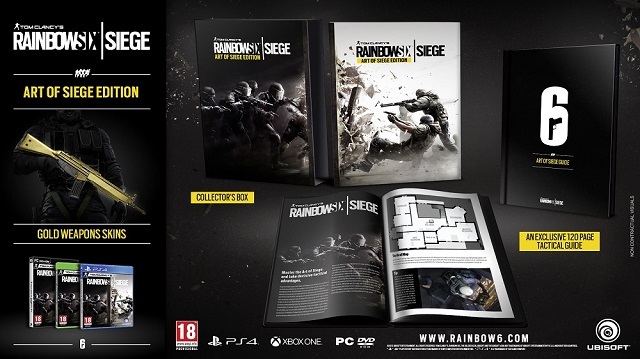 UPLAY EXCLUSIVE PRE-ORDER OFFER
Guaranteed closed Beta access
Exclusive Steelbook
THE ART OF SIEGE EDITION CONTENT
Physical content
Tom Clancy's Rainbow Six® Siege game.
Collector's Box.
An Exclusive 120 page Tactical Guide, allowing you to better approach and plan your siege strategies before a mission starts. This high quality guide includes every single key element of the game – detailing each Counter Terrorist Unit, Operators, weapons, and maps with the highest level of detail and statistics. All this content has been created with Tom Clancy's Rainbow Six developer team and core gamers' advice, giving you the most effective results in the field.
Digital content
DLC Pack: Gold Weapons Skins - Stand out within your team with this DLC package giving you access to Gold Skin for all in-game weapons!
PRODUCT DESCRIPTION
Rainbow Six Siege is the upcoming installment of the acclaimed first-person shooter franchise developed by the renowned Ubisoft Montreal studio for the new generation of consoles and PC. Inspired by the reality of counter terrorist operatives across the world, Rainbow Six Siege invites players to master the art of destruction. Intense close quarters confrontations, high lethality, tactics, team play, and explosive action are at the center of the experience. The multiplayer gameplay of Rainbow Six Siege sets a new bar for intense firefights and expert strategy in the rich legacy of past Rainbow Six games.