Dobio sam mail da sam ušao u program, drugi mail sa kodom za app, instalirao sam app koji se zakuca na ovom screenu: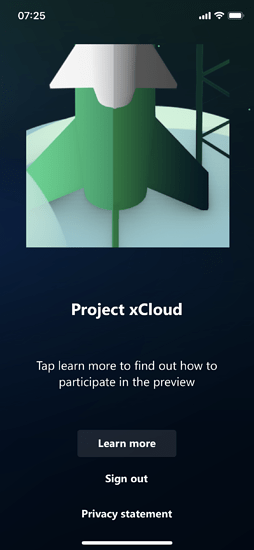 Jel neko uspio pokrenuti app i kako?
Mislim da to nema puno smisla, jer ti onda stream ide preko VPNa, pitanje je koliki lag to može da izazove na već postojeći…
Ja koristim vec neko vreme na androidu. Vpn resava posao, samo dok se pali app ga drzim ukljucenog, kada se sve upali gasim vpn i koristim normalno. Prilicno lepo radi.
Ja sam pokušao i tako sa Windscribeom, ali ne ide.
Cek, jebli morate biti u nekom programu da isprobate xCloud ili je svima dostupno?
Poslao sam im mail i za dva dana su me pozvali, trebati ti kao invite za aplikaciju.
@Son_of_a_gun ja sam na telefonu koristio tunel bear, i odmah je prihvatio.
Trebaš se registrovati za betu, pa ako te odaberu.
Radi sa Tunnelbearom i na iOSu.

Samo Halo trenutno dostupan.

Ali čemu sve ovo

. Jel stvarno planirate da igre sa X igrate na telefonu? Ok nešto kao Ori, ali Halo, Gearse…?
Apple dozvoljava samo jednu igru u Test Flightu.
Ja imam svaki dan oko sat vremena u vožnji do i sa posla, mogu nešto da igram u tom periodu. Npr igram The Outer Worlds i slušam neki podcast.
Ja sam probao horizon 4, na poslu

. Realno skorz je bila ok prica, taman sam odradio bio par nekih smarackih eventova za achivement. Realno ne bih nesto prelazio tako, ali nesto sitno mogu da odradim kada imam viska vremena na poslu.
Onda je do mene, igranje na telefonu me nikad nije zanimalo, tako da mi je ovo teška budalaština. Dovoljno što piljim u TV, treba još i u telefon. Bukvalno se ne sećam kada sam poslednji put instalirao igru na telefonu.
Pa u principu i ja, ali na poslu nekad cisto, ume da bude po ceo dan da nemam posla. I onda ajde kao, da se ne ubijem od smora. Pogotovu recimo ako se sa posla vracam sa devojkom kuci, onda nema nista od gaminga kada stignem pa se zadovoljavam i telefonom malo dok mogu

.
Ima jedno rešenje za sve vas što volite igranje u pokretu, Switch

. Ovo je samo dokaz koliko vam treba jedan.
Zašto bih ponovo kupovao igre koje već imam?
Bolji imam ekran na telefonu nego switch

. A i grafika je bolja sto je najgore kao i izbor igara. Na switchu bih odigrao jednu ili dve igre.