Evo prilike da Game Pass i igre kupujete kroz MS rewards poene
Uff, ovo je super. Bravo za MS!
Sad su se setili kad sam nabio skoro 50k gp i odigrao skoro sve što me zanima

Bolje ikad nego nikad. A svakako ce tek biti dobrih igara. Najjaca stvar je sto MS zaista nema zahtevne misije za dobijanje Rewards poena.
P.S. Ranije kada sam imao ONE S, ja sam radio ove misije za Rewards poene i bilo ih je skroz lako vezati za nalog preko aplikacije i VPN-a. Veći je problem bio naći nekog u podržanoj zemlji koji će vam dati broj telefona a onda poslati kod za redimovanje odabrane nagrade. U mom slučaju je to bilo 5 dolara

Očekujemo od tebe tutorial za rewards: kako, kada i gde uputstva

.
@Milan89SD koji deo reči "uskoro" nisi skapirao lol
It appears that, at least in some countries, support for the rewards program is not available for Xbox. In a Twitter thread about the topic, Xbox Loyalty Marketing Lead Daniel Martins said, "our team keeps hard at work to improve the Microsoft Rewards service quality and welcome more and more members. While we don't have anything to share right now, stay tuned to our official channels for announcements to keep up to date!"
U hrvatskoj radi, sada vaš pričao sa drugom. Tako da to njihovo uskoro i nije baš uskoro svuda

Kod mene radi Rewards, baš me zanima jel ovo znači da bi uskoro mogli da prošire zvaničnu podršku za Xbox i na ove regione.
I da trenutno u Redeem sekciji postoji samo LoL poklon kartica i donacija 111din Save the Children organizaciji.
Mogao bi i store proraditi onda u dogledno vrijeme.
Baš me zanima kakve bi cijene bile, da li bi i dalje pjevali "Hasta siempre" ili "Vraćam se majci u Bosnu".

Currently ali ne za sve dok ne bude official u tim regionima. Znaš i sam kako idu stvari u Srbiji.
Sad ćemo mi da opalimo maržu od 50% MS-u, onih Apple-ovih 30% je ništa

Kako ovo tačno funkcioniše na naše naloge kad smo svi Us, Arg itd…?
Hm, dobro pitanje. Pretpostavljam da su to neki regionalni/ip enableri i nemaju veze sa regionom naloga ili prodavnice. Mi jos uvek nemamo zvanican store, a imamo tj imacemo rewards, tako da jedino i moze da funkcionise sa tudjim store-ovima i regionima?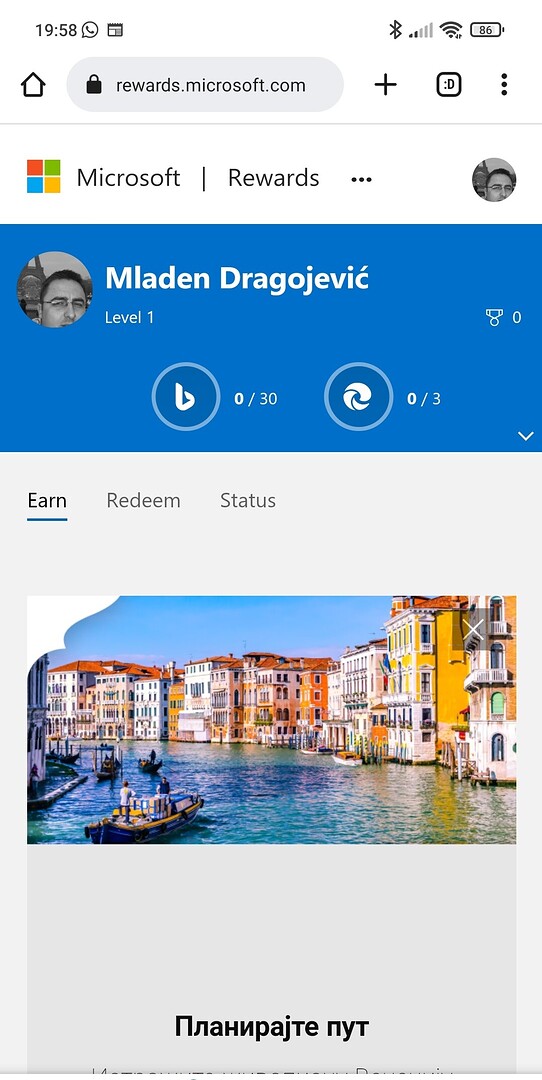 Išao sam na MS Rewards, izbaci da nema za region, ulogovao se na nalog MS sajt zatim isao na Rewards, izbacilo sign in ili join, išao na join i izbacio ovo sa SS-a. Šljaka

Kod mene je sve ok


Probaj prvo da se ulogujes na microsoft.com pa onda tek idi na rewards (trebalo bi da budes automatski ulogovan) onda ti izbacuje sign in ili join. Kad idem direkt na rewards da se logujem izbaci isto kao kod tebe.
Edit, probao opet ovako, radi.

Skinite Game Pass aplikaciju pa vidite da li vam radi Rewards. Pusti ti djoMla sajt gde dobijas poene za koriscenje Edga i Bing pretrazivaca

Šta mi teško da Bingujem i Edgujem