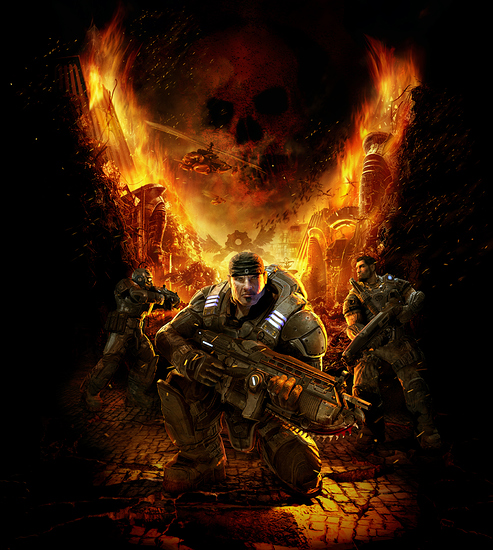 Microsoft and Black Tusk Studios are developing a remastered version of the original_Gears of War for Xbox One, sources tell Polygon.__The re-release of Gears of War for Xbox One will include updated visuals and reworked cutscenes, courtesy of animation studio Plastic Wax, according to a source. Stills of Gears of War's remade opening cinematic were shown to Polygon, offering a new look at the Locust invasion with updated visuals._
[I][I]Microsoft was previously rumored to be working on a remastered Gears of War anthology for its current console, dubbed the "Marcus Fenix Collection." But Black Tusk studio head Rod Fergusson, previously the series producer of Gears at developer Epic Games, downplayed those rumors earlier this year.[/I][/I]
[I][I]"I love the passion, but there's no Marcus Fenix Collection," Fergusson said in March. "We ARE working on other exciting Gears projects. I'll see you at E3!"[/I][/I]
[I][I]Microsoft acquired the Gears of War property from Epic Games in 2014. The company brought on Fergusson and tasked Black Tusk Studios with continued development of the Xbox and PC franchise. Xbox head Phil Spencer has indicated that Microsoft wants to get back to basics with Gears of War.[/I][/I]
[I][I]"The thing that was great about the early Gears of War games, to me, was just the epic scale of the settings that I was in," Spencer said in an interview last year. "The story, the setting was a lot more what I would call soulful and maybe even a little dark. I think the game over time became almost more of a parody of itself; not for any kind of horrible reasons. It's hard to continue to manage the IP."[/I][/I]
[I][I][I]Gears of War turns 10 years old in 2016. The first game in the series was released on Xbox 360 in November 2006, and was ported to Windows PC the following year.[/I][/I][/I]
_[I][I]Polygon has reached out to Microsoft and Black Tusk Studios for comment on [I]Gears of War for Xbox One.
_[/I][/I][/I]izvor: http://www.polygon.com/2015/4/24/8490745/gears-of-war-xbox-one-anniversary-remake
Znači, ipak rade na GOW1 remasteru… Idemo opet u krug. Sutra će valjda da opovrgnu, pa će opet da se javi neki insajder, i onda ajmo Jovo nanovo. Doduše, ima smisla, jer će 2016 biti 10 godina od originala. Bilo bi čudo da ovo ne spremaju. Uradili su to za Halo 1 i 2, verovatno će i za Gears Of War.