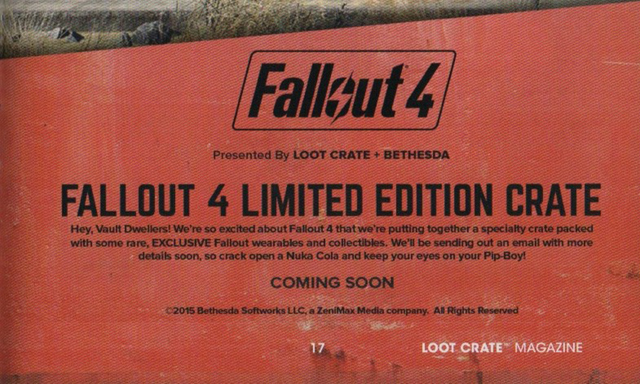 With excitement from Fallout 4's announcement and Fallout Shelter's iOS release running high, Loot Crate is teaming up with Bethesda to create an exclusive Fallout 4 limited edition crate.
The news broke in the latest issue of Loot Crate's official magazine, which included a splash page teasing the promotion. A scan of the announcement obtained by Shacknews promises "rare, exclusive Fallout wearables and collectibles." Take a look:
Available as a subscription or single-purchase service, Loot Crate puts out a themed box of goodies every month. The loot inside is always a surprise and varies month to month, but t-shirts, stickers, comics, collectible figures, and small toys are common. Usually, each crate chooses from a variety of games, movies, and books to fit a wider theme, such as "fantasy" or "villains," but Loot Crate has been known to work with game developers on exclusive crates before—the first wave of Nintendo's amiibo figures were launched in a similar partnership last November.
Depending on the plan purchased, Loot Crate prices range from $19.95 for a single crate to $215.40 for an entire year's subscription. Prices for this exclusive crate may vary.
Pre-orders and timing details aren't available yet, but with a limited run and exclusive collectibles, the Fallout 4 crates are sure to sell fast. Check back soon for more updates!
http://www.egmnow.com/articles/news/limited-edition-fallout-4-loot-crate-announced/