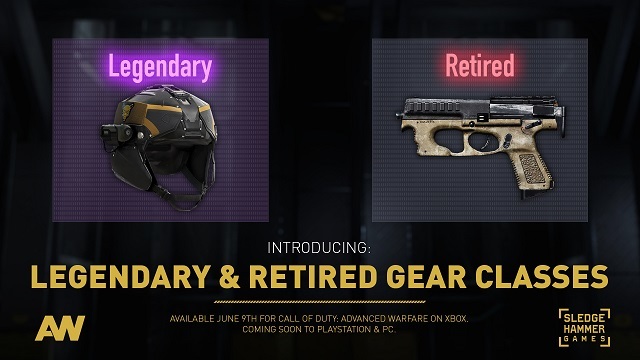 Sledgehammer Games will be introducing two new tiers of gear to Call of Duty: Advanced Warfare on Xbox 360 and Xbox One next month.
First up is a Legendary tier of gear, which is apparently more elite than Elite. The first Legendary gear set is the uber-rare Sentinel CI (Counter-Intelligence). There is currently only one set of this gear in existence, which is owned by the first player to reach Grand Master Prestige in Advanced Warfare. However, come June 9, every player will have a chance to earn all eight pieces of this set from supply drops. Each legendary item piece is highlighted purple in the Armory with the highest redemption value in the game.
Next is the Retired category of gear. Sledgehammer will be removing some existing items from supply drops and giving them a new "Retired" label. These items will no longer be awarded, but players who already own them can still use them.
Both Legendary and Retired gear will be introduced to Advanced Warfare on June 9 on Xbox One. PlayStation and PC players will have to wait.
http://www.egmnow.com/articles/news/legendary-and-retired-gear-coming-to-cod-advanced-warfare-on-xbox-next-month/