Odlicna stvar. Baš mi je igra privukla pažnju na prvi pogled. Ide na install.

Uz dobru muziku je i tetris kidalica
Pao prvi boss, igra me prijatno iznenadila. Muzika kida!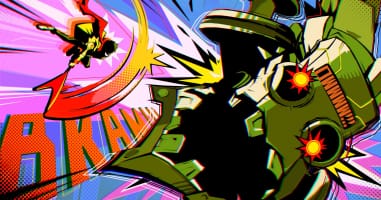 Na Steam-u trenutno ima Very Positive ocenu sa visokih 99% pozitivnih komentara. Videćemo u narednim danima utiske igrača, kad se malo slegnu ocene i utisci.
Tetris i jeste kidalica, em je critically acclaimed, em se prodavao dobro.

Stavio sam na install igru pa ćemo vidjeti. Samo se nadam da prašta ako ne utrefiš u ritmu sve jer Metal Hellsinger mi je bio pretežak po tom pitanju i batalio sam igru zbog toga.
Jel probao neko? Moje prvo pitanje da li je ovo open world igra? Nekako ima Sunset Overdrive vajb.
Rekoše da prašta, tj ne kažnjava ako ne utrefiš.
Da, čuo sam to u prezentaciji ali moram ipak da probam. To što oni kažu da prašta mi ništa ne znači jer ne računaju oni na to da neko može biti invalid za to kao ja.

Akciona rhythm arkada, sa nekoliko platformskih deonica i puzzle elementima.
Koliko je dobro


. Onaj osećaj kao kada bi dokopao Sega Mega Drajva i igrao Comix Zone. Puna 90s nostalgija ali upakovano u svež gejmplej, odlične animacije i prelep art style. Glavni lik te osvoji u prvih par minuta.
Skinuo jutros, i ja krećem veceras u akciju
Surprise game drop, kakav potez! Nekako se to vise ne desava.
Mora da su potplatili Schreirera da cuti, ne mogu da verujem da su uspeli celu igru u tajnosti da naprave.
Doduše leakovalo je pre nekoliko dana, ali i nije se ništa više osim imena znalo. I zaista, lepo iznenađenje kada kažu igra je sada dostupna, skinite je i igrajte. Kažu da je za ovo trebalo dosta energije da bi se izvelo na ovaj način a da se se iznenađenje ne upropasti. Svaka čast. Pri tome je igra predobra, što je još bolji efekat.
Trenutno je 5. igra na Steamu po prodaji, što je stvarno super rezultat, budući da je igra i na Game Passu:
Auh koje ludilo od igre. Bas je do jaja

Prelepo izgleda, gameplay solidan i ne smara, atmosfera je sjajna, muzika daje poseban smek i mozda najbolji detalj igre.
Iako je ritam igra, ne moraš 100% tako da je igraš, tj igra te ne kažnjava ako ne ubodeš beat, u stvari, igranje u ritmu je samo bonus "ali nije moranje". Odličan game design. Takođe nema checkpointa, gde zagineš, vrati te par metara dalja i probaj ponovo.
Podseca me na one ludacke Rayman muzicke nivoe