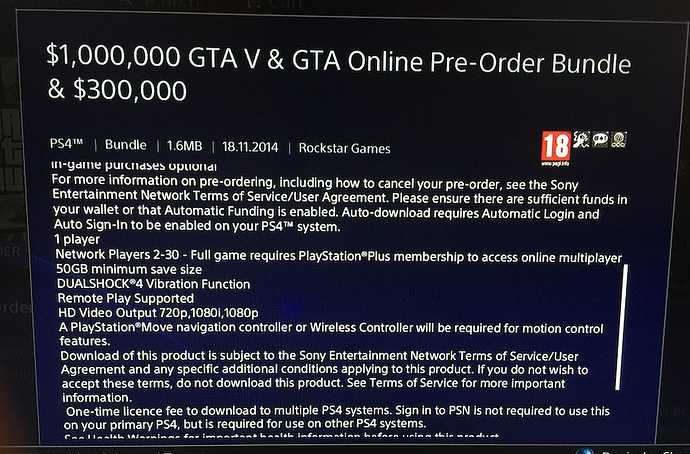 Thanks to user daltontigerboy from GTAForums, we've learned that a pre-order page for GTA V on PS4 has appeared on the European PlayStation Store. The page, pictured above, lists a minimum save size requirement of 50 GB – that's pretty hefty!
This will make GTA V the largest PS4 game so far, coming in just ahead of Wolfenstein: The New Order. Wolfenstein has a minimum save size of 48 GB. Another large PS4 game is The Last of Us Remastered, at 43.5 GB.
For a better comparison, the PS3 version of GTA V lists a minimum save size of 18 GB. The Xbox 360 version was 16 GB, so we can assume GTA V for Xbox One will be around the same size as it is on the PS4.
50 GB is massive! Most of the space will probably go toward the many enhancements, but it's still a big jump. What do you think about this discovery? Might be time to upgrade that next-gen hard-drive…
[SIZE=1]GTA V is Largest PS4 Game Yet at 50 GB[/SIZE]