Posto je izgleda postalo popularno da razvojni timovi objavljuju koliko je zenske popilacije u njihovim redovima to je posle Naughty Dog-a ucinio i Sony Santa Monica Studio. Pored brojki prilozili su i slike kao dokaz (mada bi za dobar deo njih trebalo nesto vise priloziti pored slike kako bi se utvrdilo da li zaista pripadaju zenskoj populaciji).
Today Sony Santa Monica Tools Programmer Emily Berger responded in kind showing a picture of a sizable group of ladies working at the studio of God of War. You can see it at the bottom of the post.
I actually asked Emily how many ladies contribute to creating Kratos and friends, and she responded that the picture doesn't show them all, but there are about 25 in the team.
Considering that the team should count about 160 employees after the recent and unfortunate round of layoffs, that means that roughly 15% of the studio's employees are of women.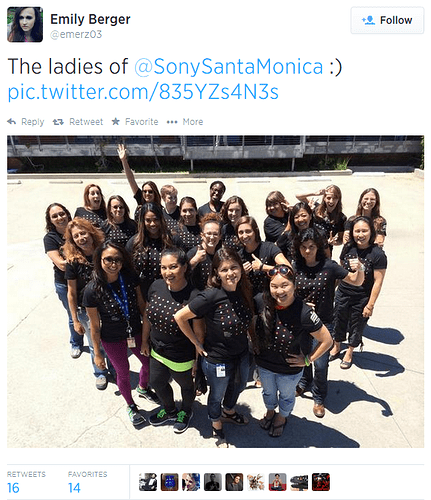 A evo kakva je situacija u ND-u, pa vi procenite cije su lepse!
First of all, we learn, thanks to Uncharted 4: A Thief's End Game Designer Emilia Schatz, that roughly 14% of Naughty Dog's employees are women.
[INDENT]There are ~30 women at ND total, so ~14%. May not seem like much, but it's unusually high for our industry.
[/INDENT] We don't only get to know the number of ladies working at Naughty Dog, but we also get to see quite a few of them in a lovely group picture:
[INDENT]Women make games @Naughty_Dog! Design, animation, code, level art, concept, character, sound. Name it, we make it.
[/INDENT]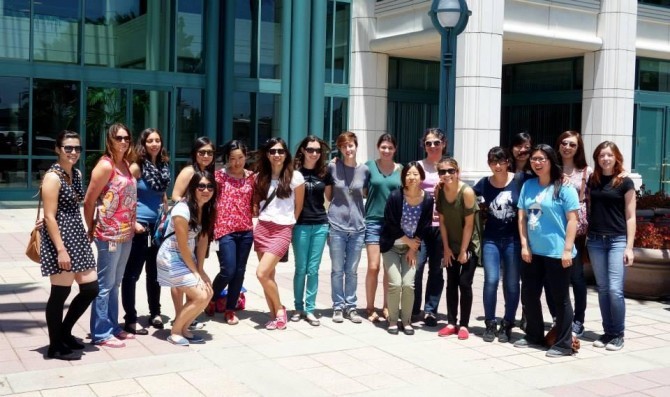 link: http://www.dualshockers.com/2014/07/18/here-are-sony-santa-monica-studios-goddesses-of-war/
Link: http://www.dualshockers.com/2014/07/13/14-of-naughty-dog-are-women-studio-works-past-9-pm-during-crunch-ps4-a-pleasure-to-work-with/