Izgleda da je app pun spoilera pa ga skinite uz igru ili posle.
Ha, cool app. Kad vec nemamk VR

I meni se skida tj skinuo se vec odavno. Kad smo vec u 'leba preko pogace modu, bilo bi lepo ovo igrati u 4K HDR.
Uh, ko će dočekati sutra. Osećam se ko malo dete pred novu godinu ili rodjendan, čekam poklon a vreme sporo teče
Od kako sam uzeo igru, nisam više pogledao ni jedan snimak, što se kaže dalje idemo totally virgin


Neću ni app da skidam, da ne bi otkrio nešto pre igranja.
Sta si ti uzeo 4K HDR tv ?
Veruj mi ja ne zalim niti evro za tv koji sam uzeo(tacnije drugi 4K tv

), jer je realno nebo i zemlja razlika u 40" vs 55" i 8bit non HDR vs 10bit HDR tv), pogotovo posto danas pored igara ima brdo 1080p 10 bit i 4K HDR 10 bit filmova i serija.
EDIT:
Bas sam pre neki dan gledao Star Wars: The Last Jedi u 4K 10 bit HDR-u, milina…
Opop bjurke miiiiliiinaaa…jbg. ja uzeo na disk-u(ide u collection), malo pre sam bas zvao i navodno sutra tokom dana bi mi trebao stici…
EDIT:
I pogodat - trica, hehehe , evo brurke pridruzujem ti aka vam se, sutra cemo da se igramoooo… #hype, #hype
:Šta vam je danas ulepšalo ili sjebalo dan? - Vol. 5 - #915 by predator
---
---
---
---
---
---
EDIT 2: @padawan sta bi? Sta vise ne pricas sa mnom?

.
Sta bi na kraju slabo sam bio na forumu u zadnje vreme, posto imam osecaj da mislis da te zezam…
Svima vama koji imate PS4/PS4 Pro želim da se naigrate ove igre uz znanje da vam zavidim koliko sam težak, a imam 118 kilograma, pa vi vidite koliko je to zavisti


Imam izdataka milijardu, porodicu, živim na brdovitom Balkanu, a da mogu - još prekjuče bih imao konzolu i digitalnu verziju ove igre, čak i pre toga.
Preterano je koliko mi dobro izgleda!
Carry on as usual now … I'm out.
Eno i final boss se pojavio na YT…
Ban


Ljudi mene takav hajp puca da to nije zdravo,a fazon nisam pogledao nijedan snimak na Yt… Prosto mi se ne ide na odmor koliko mi se igra ovo

E,da ono najbitnije,uzivajte u svakom minutu u igri i nemojte spoilovati.
Ne bih preporucio nikome da krene odmah mode "Give me God of War"



Al me bacate u bedak sa tim 10bitnim HDR TV, a ja pre dve godine kupio Samsung 48H6400

Koliko kosta takav gaming tv?
A šta će tebi kad se igraš na Switch-u

Igram se na Switchu ali to ne znaci da sam operisan od drugih platformi

Auuu, hard je bas hard, moraću da spustim na normal…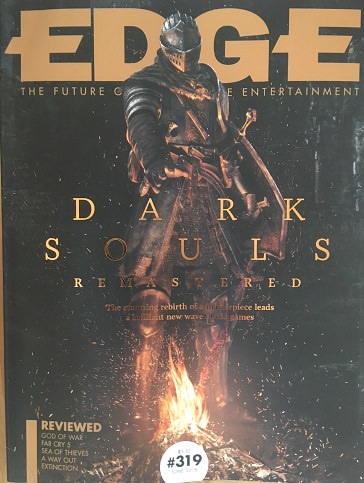 EDGE review stigao, osmica.
God of War – 8
Sea of Thieves – 7
Far Cry 5 – 6
A Way Out – 6
Extinction – 3
Scribblenauts Showdown – 3
Minit – 6
Detective Pikachu – 6