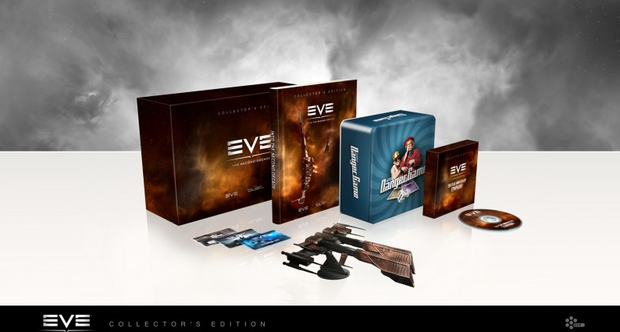 U pakovanju se nalazi knjiga od 190 strana sa imenom "Into the second decade", koja predstavlja prvobitno izdanje EVE online i lansiranje PS3 pucacine DUST 514.
CCP has announced a new collector's edition of their space MMO, EVE Online. Dubbed the "Second Decade" edition, this new $150 bundle commemorates the first ten years of EVE.
Included in the box is a 190 page hardcover book titled Into the Second Decade, which chronicles the initial release of EVE Online, its expansion, and the launch of PS3 companion shooter DUST 514.
There's also the "Rifter" USB hub, a four-port USB hub modeled on the EVE Online ship. There's also a soundtrack CD featuring a live performance by the Icelandic Symphony Orchestra, and "The Danger Game" board game, an English adaptation of a board game created by CCP in 1998 which helped fund development of the original EVE Online release.
The bundle also includes codes for in-game items for both EVE Online and DUST 514:
The "Golden Pod," an exclusive skin for the iconic capsule.
A "Gnosis" Blueprint, a five-run blueprint of the 10th anniversary Gnosis, the Society of Conscious Thought battlecruiser.
The "Time Capsule," a selection of collectible items based on classic EVE lore as well as memorable moments over the first decade.
A new skin for the Amarr Magnate frigate.
A selection of exclusive male and female clothing items and accessories to dress your pilot in style
Powerful weapons and a collection of "Templar" dropsuits for DUST 514.
Pre-orders will also get two more items: the "Nefantar Thrasher," a glass cannon-style destroyer for EVE Online, and the Amarr Templar Drop Uplink, a spawn beacon for DUST 514 that requires no special skill-training to deploy or use.
Every order includes a "Mystery Code" that will offer secret benefits "related to future CCP products and events." The bundle can be found on the official EVE store.