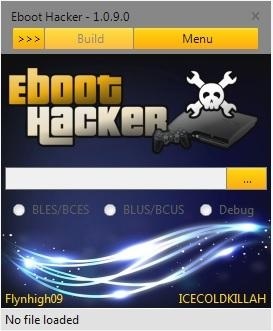 A new update for Eboot Hacker has been released by developer flynhigh09 & ICECOLDKILLAH. Version 1.0.9 now supports 30 games with this update adding 16 new games, also in a recent update there has been a UI change and various other features you can see in recent changelogs provided inside. See all the details about Eboot Hacker v1.0.9 inside.
16 new games added, eboot hacker offers now codes for 30 games! heres the complete game list from new 1.0.9.0:
Changelog v1.09
Added Ratchet & Clank Future: Into the Nexus.
Added Transformers: Fall of Cybertron.
Added Transformers: War for Cybertron.
Added Bioshock Infinite.
Added Dead Space Ignition.
Added Far Cry 3 Dragon Blood.
Added Hard Corps Uprising.
Added The Lord of the Rings: War in the North.
Added LEGO The Hobbit.
Added The Witch and the Hundred Knight.
Added Just Cause 2.
Added Borderlands 2.
Added J-Stars Victory Vs
Added Max Payne 3.
Added Star Wars The Force Unleashed.
Added Star Wars The Force Unleashed 2.
Added a new pulsed to go back to a game loaded.
Added back the automatic backup of the file eboot.
Further changes effectively to the GUI.
Fixed some minor bugs.
Changelog v1.08
Added many more mod for Grand Theft Auto V (update 1.12).
Fixed the error "eboot.elf is used by another process".
Removed the automatic backup of the file eboot.
Ui Easter Special.
Changelog v1.07
Added Dragonball Z: Battle of Z.
fixato Atelier Escha & Logy.
fixato Ragnarok Odyssey Ace.
Download: http://www.mediafire.com/?ca2m9kgw4hgsai5
Izvor: Ps3hax.net
Sent from my iPhone