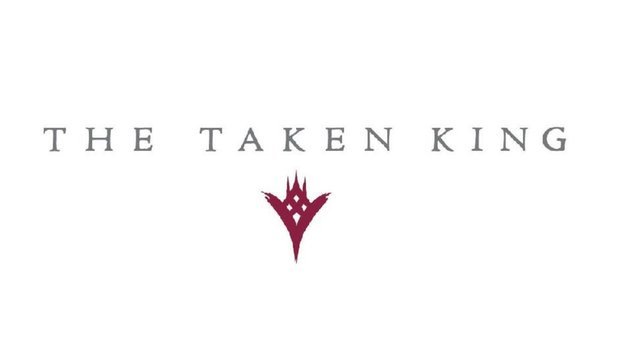 Looks like we might have the official identity of Destiny's first really big expansion, expected in September. Previously known primarily as a 'Comet' release – the code word for "major downloadable content expansion pack-type software releases" in Bungie's leaked contract for Destiny with Activision – the add-on has long been rumoured to contain 12 new story missions, four new Strikes, a new Raid, a host of additional PvP content, and a brand new location. It has also - unofficially, and by way of another leak - been tentatively referred to as 'Plague of Darkness'.
Now, however, it seems that that might have changed. According to a NeoGAF thread, Bungie has trademarked the name "The Taken King", along with a rather striking, minimalist logo. Observant Guardians will notice that the scratchy, angular iconography in the banner is rather reminiscent of Destiny's Hive enemy faction, lending a fair bit of plausibility to the image.
Additional weight comes from the supposed identity of the trademark filer, that apparently being one Jim Charne, the same attorney who trademarked the previous, stop-gap Destiny expansions, The Dark Below and House of Wolves.
But if all of this is true, then who is the titular King? The obvious bet, given the Hive-like visual overtones and the character's status within Destiny Lore, would be Oryx, the long-referenced but hitherto unseen grand high big bad of the subterranean pseudo-devils. The Dark Below's Raid tasked Guardians with knocking off his son, Crota, so it would make a great deal of narrative sense if dad was now provoked into the fight. If this expansion does turn out to be as big as rumoured, then it's going to be one hell of a throwdown.