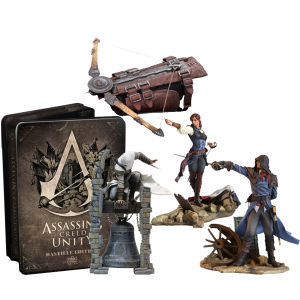 Assassin's Creed: Unity - Deluxe Figure Pack
The Assassin's Creed: Unity - Deluxe Figure Pack contains:
Altaïr - The Legendary Assassin
Arno - The Fearless Assassin
Elise - The Fiery Templar
Assassin's Creed: Unity - Bastille Edition
Paris, 1789. The French Revolution turns a once-magnificent city into a place of terror and chaos. Its cobblestoned streets run red with the blood of commoners who dare to rise up against an oppressive aristocracy. Yet as the nation tears itself apart, a young man named Arno will embark upon an extraordinary journey to expose the true powers behind the Revolution. His pursuit will throw him into the middle of a ruthless struggle for the fate of a nation, and transform him into a true Master Assassin.
Introducing Assassin's Creed® Unity, the next-gen evolution of the blockbuster franchise powered by the all new Anvil engine. From the storming of the Bastille to the execution of King Louis XVI, experience the French Revolution as never before – and help the people of France carve an entirely new destiny.
The Storming of the Bastille is the most emblematic event of the French Revolution, the first large-scale uprising of the people fighting for their rights and the fall of injustice while Templars lurk in its shadow. The Assassin's Creed Unity Bastille Edition is the proof that you are a true revolutionary who's made a stand and helped write history. In addition to the game, this edition contains an art book, 2 lithographs and the game soundtrack. You will also get access to 2 single player missions for an extra 45 minutes of gameplay!
The Bastille Edition Content:
Physical Content:
Assassin's Creed® Unity game
Exclusive Jumbo Steel Case
A high quality artbook including concept art that inspired the game
The official game soundtrack
2 lithographs in a stylized envelope
Digital Content:
2 additional single player missions for an extra 45 minutes of gameplay:
The Chemical Revolution: Antoine Laurent de Lavoisier is considered to be the "Father of Modern Chemistry". As a result of his efforts, he was able to create the formula for a poison bomb. Unfortunately he was taken before he could give it to you. Help him escape his kidnappers and recover the formula of the precious bomb.
The American Prisoner: After being involved in the American Revolution, Thomas Paine lived in France for most of the 1790s, becoming deeply involved in the French Revolution. Regarded by some as an enemy of the nation, he was arrested and imprisoned in a Parisian "Hotel Particulier". Infiltrate his prison, find Paine and collect all of his manuscripts before they are stolen by his enemies.
A cena prava sitnica €215.89