U, opasan plakat.
Kad smo vec kod artworka moze neki update za forum wallpaper? Mozda Titanfall 2…
Nova Ripley tj.dodje mu neka pre nje. I lice malo…mozda bude neki twist k'o u sapunicama.
To je tata, ali posle operacije.
Uh nadam se da nije tako. Ne mozes samo da ponavljas iste motive – Ripli u sivoj majichici je neponovljiva slika. To je mlada Sigurni Viver iznela do savrsenstva.
Ova slika iznad je ko kolaz best-of detalja iz prethodnih filmova. Ne valja uopste.
Kazi to Star Wars sedmoj epizodi…koja je na taj nacin prosla samo tako
Evo kada sam vec postavio SS, da postavim i tekst
#Katherine Waterston takes aim in new Alien: Covenant photo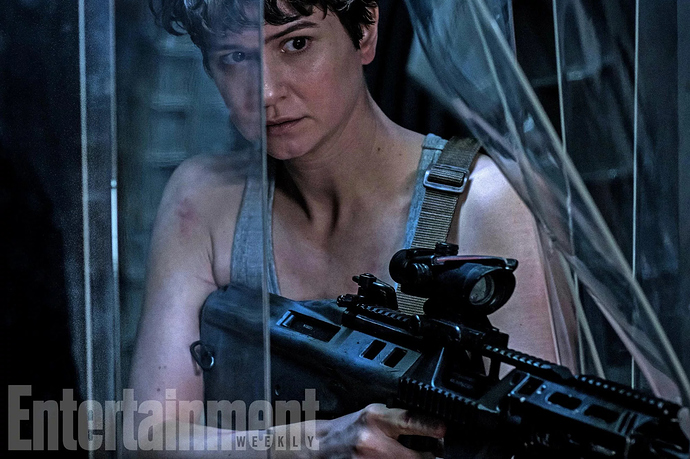 Ridley Scott has learned the following from five decades of directing: "It's hard to scare people," he says. "It's a lot easier to make ­people laugh. But to really scare the sh– out of somebody? That's difficult."
Scott has been doing exactly that ever since we saw a monster burst out of a man's chest in 1979's Alien. That cover-your-eyes kind of fear looks to continue with Alien: Covenant, about the crew of a colony ship who think they've found a great new planet when — surprise! — it turns out to be a terrifying one they need to escape. If 2012's kinda-sorta Alien prequel Prometheus was confusing, Scott says this film will provide some answers. ­"Covenant is really going to show you who did it and why."
Michael Fassbender returns as David alongside Billy Crudup, Danny McBride, Demián Bichir, Jussie Smollet, and — looking an awful lot like a certain heroine of old — Katherine Waterston, who most recently starred in Fantastic Beasts and Where to Find Them.
Waterston was wowed by her director. "He's a master! He's got the energy of 10 25-year-olds," she says. Plus, "he's sadistic. He loves the thought of making people scream in a cinema."
For more on Alien: Covenant, pick up Entertainment Weekly's First Look Issue, on stands Friday, or buy it here — and subscribe for more exclusive interviews and photos, only in EW.
Alien: Covenant will launch into theaters on May 19.
Ninja me odusevljava svojim Vojvodjanskim slengom, uvek me podseti na drzavni posao


Inace trejler odlican, bice valjda i film. Osecam da ce ga propratiti i igra, koja ce biti osrednjeg kvaliteta.
Meni je trejler grozan – podgrejani paprikash klishea bez ijednog originalnog kadra. Sve su reciklirali, sve. Samo-kopiranje. Mogao bi neko sa vishkom vremena i energije da sklopi nov trejler koristeci iste te kadrove, samo iz originalnih filmova.
Na koju god planetu odu, tamo srusen vanzemaljski brod. Quality-Control odeljenju sasekli budzet. Samo, slusaj ovo, ovaj put je medju drvecem!!
A ko da im nije dovoljan sam alien, sad su poceli da guraju nove zivine u svaki film. U Prometeju se nije znalo vise sta je sta, samo neka cudovista, pipci, penis-zmije i zombiji (?!), sad i ovde nekakve spore i mutacije…
Zao mi je. Ja prvi bih voleo da se odusevim, ali ne mogu. Ne valja nista. Mashte nula.
Plus guraju svugde Fasbendera. Iako mi je dobar glumac, igrao je u par key filmova, pa mi sam film gubi nekako identitet sa njim.
inace mogu da se kladim da ga se 80% foruma ne seca iz ovog filma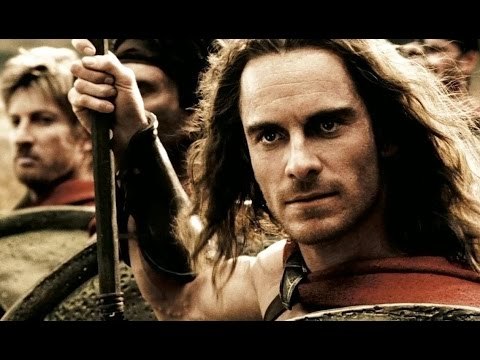 Ja znam da je tu glumio, al retroaktivno. Tj. nisam znao za njega kad sam ga tu gledao. Prvi put mi je zapao za oko u Inglorious Basterds.
On ima izuzetno harizmaticno lice. Lep, al ima notu hladnoce i opasnosti. Zene se na to lepe ko na magnet. Garant je perverzan.

Noodle, bas si ga lepo analizirao… Bas si onako… upucen u materiju
Ja sam ga 1. Put video (primetio) u Prometheus sto je glupmio robota Bishop