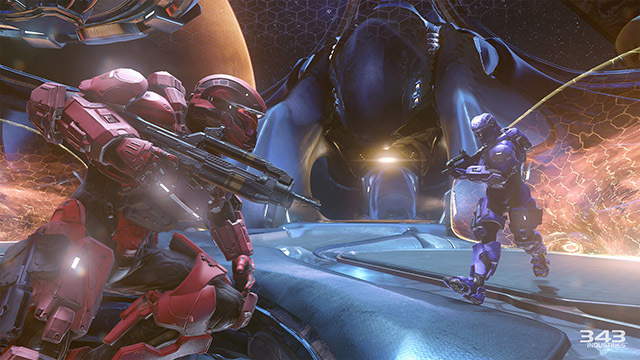 Halo 5: Guardians will include microtransactions, developer 343 Industries has confirmed, but there won't be any pay-to-win.
Halo 5's Requisition System (REQ System) rewards players across both multiplayer experiences (Warzone and Arena), with players earning REQ Points at the end of each match that can be redeemed for REQ Packs. REQ Packs will also be rewarded when leveling up or completing Commendations. These packs contain a variety of requisitions (REQs) in the form of unlockable weapons and armors, skins, assassination animations, and more—similar to Advanced Warfare's Supply Drops.
These packs can also be purchased for real money "as a matter of convenience," according to 343, with a portion of the proceeds from REQ Packs going toward prize pools for the Halo Championship Series.
Of course, this news caused a bit of the ruckus within the Halo Community, but 343′s Josh Holmes took to Halo Waypoint to assure fans that there will be absolutely no pay-to-win involved.
"While players will earn REQ Packs across both Arena and Warzone, only cosmetic items can be used in our Arena experience. This is to ensure that all players start with the same weapons and abilities as part of our vision for the balanced, competitive play in Arena multiplayer," he explained.
However, the same limitation isn't in effect for Warzone. "Within Warzone, you'll have the ability to deploy a multitude of weapons and vehicles from your inventory of REQs throughout a match," Holmes added. "These requisitions are governed and balanced by Warzone's in-match REQ Level and Energy systems, which are driven by player and team performance within the mode."
Holmes concluded by confirming that all REQ content can be "earned through the regular course of play in multiplayer."
Halo 5: Guardians will be available from October 27, 2015 exclusively on Xbox One.
http://www.egmnow.com/articles/news/343-explains-halo-5-guardians-multiplayer-microtransactions/